#BeyonceBiteGate; Aunt Viv is back! Star marries!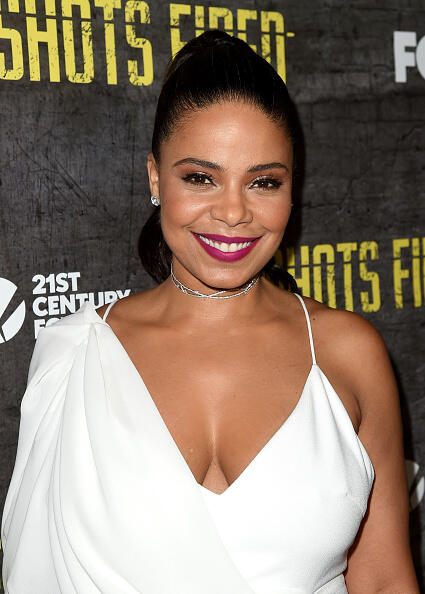 (Photo by Kevin Winter/Getty Images)
Auntie Viv has a new show but no more time for PG-13. One of my favs, Actress Vivica A. Fox, holds nothing back in her new memoir/self-help book titled Every Day, I'm Hustling. The actress/author/entrepreneur covers her career, including how she avoided getting fired the first day from the blockbuster Independence Day. On the Kill Bill set when she lost her temper after being disrespected by Writer/Director Quentin Tarantino, but Co-star Uma Thurman's advice paid off in the end by Fox fighting smarter. Then there's Auntie Viv's love life. She wanted to skip talking about her high profile romance with 50 Cent, but was compelled to set the record straight after he dissed her in song. Fox says she enjoyed her love sessions with 50, but she always had to initiate things. She also rated their time together as PG13, but still cherishes their time calls it special. Hmmmmmmmm. Meanwhile, always the businesswoman, the 53-year old has a new show coming to syndication. Dr. Phil and his producer son Jay McGraw present Face The Truth, a conflict resolution show where guests express their problems and turn to Host Fox and her expert panel. Face The Truth is set to launch this fall check your local listings and Fox's book Every Day, I'm Hustling is out Tuesday, April 3rd.
Star Jones Married Ricardo Lugo and she said her wedding dress made her feel like a Black Barbie doll. For her second trip down the aisle, the 56-year old author and TV personality chose to head down to the Bahamas. Jones married Lugo, a divorced father of one and a Chicago based lawyer, with less fanfare. Jones still had girlfriends Tina Knowles-Lawson and Phaedra Parks for the ceremony. Two years ago, not long after the couple started dating, Jones declared This Is My Family, and now it's official. Congratulations Star!
It's looking like Sanaa Lathan is taking the hit for #BeyonceBiteGate. Superstar Comedienne/Actress Tiffany Haddish talked about meeting Beyoncé and Jay-z at an after party and they had a great time. But, Haddish also talked about another actress who seemed to be trying' to holla at Jay-Z, and Beyoncé had to go over and squash it after Haddish offered to help beatdown the inappropriate actress. Bey wanted to keep the peace and handle it herself but that's when sources say the actress bit Beyoncé! What?!!! Social media lit up and ran down a number of suspects all of whom denied it including Sanaa Lathan. Lathan said the twitter users accusing her are funny and she didn't bite Beyoncé BUT if she had it would have been a love bite. That helped sealed the deal and reports quickly followed. Her O.J. like denial combined with talk from people close to Haddish has folks pointing fingers at the Love & Basketball actress herself……Sanaa Lathan. At press time, Lathan stopped commenting on the situation. Haddish defended herself initially talking about the incident as part of what she does to protect her people, and confirmed she's a charter member of the Beyhive. Haddish has remained silent on dropping the name of the actress publicly. You know Jay-Z and Beyoncé love those non-disclosure forms. Did Haddish start talking before signing one and now is keeping new details quiet? We're waiting on Bey for the next word.
In more Tiffany Haddish news, she's definitely so busy that she's got to get out of #BeyonceBiteGate fast. First, Haddish joins Tracy Morgan for the sitcom The Last OG, which debuts on TBS Tuesday, April 3rd at 10:30pm. Then Haddish will return to the big screen and join Kevin Hart in Night School in theaters September 28th. She's also currently filming The Lego Movie Sequel, yes that's its title, with Chris Pratt, Channing Tatum and Elizabeth Banks and it's scheduled for release February 8, 2019. Plus, she's joined the all-star cast of Tyler Perry's new movie The List, which is scheduled to be released November 2nd. Finally, the Haddish streak extends to NBA Champ Kyrie Irving and their co-stars Shaquille O'Neal, Reggie Miller, Chris Weber, Lisa Leslie and Erica Ash in Uncle Drew. Uncle Drew is a big screen adventure based on the elderly basketball playing character (Irving) created for the Pepsi Max commercials. Philly's own Charles Stone, III directs this big screen adaption which hits theaters June 29th.
Speaking of Tyler Perry, at the movies this week is Taraji P. Henson starring in Perry's psychological-thriller Acrimony. A faithful wife has been pushed over the edge after being betrayed by her husband one too many times. Acrimony co-stars Tika Sumpter (The Haves & Have Nots; Ride Along). Henson and Sumpter will also join Tiffany Haddish, Omari Hardwick (Power) and Whoopi Goldberg in The List. Haddish will play a woman recently released from prison and reentering normal life, but whose online boyfriend may be a scam according to her sister played by Sumpter. Perry is writer/director and The List is set for a November 8th release.
Supermodel Janice Dickinson will testify at Bill Cosby's upcoming retrial for criminal sexual assault. The supermodel was one of five accusers the judge is allowing in the retrial. The same Judge only allowed one accuser in the last trail and prosecutors chose not to have her testify again. Some experts felt that original additional witness hurt the prosecution. Dickinson is represented by Celebrity Lawyer Lisa Bloom and is currently suing Cosby and his former Lawyer Marty Singer for defamation. When Dickenson made her allegations, Singer released a statement calling them a defamatory lie that Dickenson's own book contradicts. Meanwhile, there are still four other women who appear to have taken their accusations to the press in the past and they'll also be allowed because the judge said 5 allegations no older than 1982 will be allowed. Jury selection is scheduled for April 2nd.
Donald Glover and his brother Stephen's animated series, Marvel's Deadpool, was cancelled by the F/X cable network. F/X is also the home of Donald Glover's Emmy winning series Atlanta. So why cancel his second series? F/X at first stated Glover's scheduled was packed and there was no time to do it. Glover released a statement simply saying I'm Not Too Busy. Then, using his own brand of humor, he posted a spoof script for the show's finale on social media. The script is 15 pages and it essentially asked if F/X cancelled the show because of racism. That's pushed F/X to send out another statement confirming creative differences between the brothers, Marvel and F/X. Besides continuing on Atlanta, Glover is set to voice Simba in the Disney reboot of The Lion King. Plus, he's prepping a tour as his rap/R&B alter-ego Childish Gambino.
Rapper DMX is going to jail for a year. Just before his sentence on tax evasion, his defense team played his rap song Slippin'. The idea was to show the judge the raw talent that DMX, a.k.a. Earl Simmons, has, and that talent didn't need to be in prison. The judge called the 47-year old rapper and actor very talented but his own worst enemy. The prosecution wanted five years and the judge did agree that DMX's purposely avoiding paying taxes. The judge decided one year, not five, was best. After that year how will the rapper pay the I.R.S. back?!!!!!
Designer Virgil Aboloh has made history in the fashion world. Aboloh, who once worked a creative director for Kanye West, is now the first African American to ever serve as artistic director for Louis Vuitton, the world renowned French design house. Besides his work with Kanye, Aboloh brings his skills as the founder of fashion label Off-White.
As we continue to send our prayers and condolences to Queen Latifah and her family on the passing of her mother, Rita Owens, Patti LaBelle will step in and accept Queen Latifah's Women Of Excellence honor this Saturday. LaBelle, a past Women Of Excellence recipient, is playing Latifah's TV mom in Lee Daniel's Star, airing 9pm Wednesday nights on FOX. Meanwhile, Singers Will Downing, Philly's own Vivian Green and Major (Honest; Why I Love You) are performing at this Saturday's event. This year's other honorees include Broadcast Legend Rev. Louise Williams Bishop, City Councilwoman Cherelle Parker, TV Icon Lisa Thomas Laury, First Lady of Mother Bethel AME Church Leslie Patterson-Tyler, The Philadelphia Tribune's own Shonda McClain and our Special Trailblazing Woman of Excellence honor to Hip Hop Legend and Oscar Nominee Queen Latifah! WDAS' Fourth Annual Women Of Excellence Luncheon takes place this Saturday from 11am-4pm at The Sheraton Philadelphia Downtown, 17th and Race. All the details are at wdasfm.com.
Emmy winning Writer/Actress Lena Waithe is really stepping in high company. She's co-starring in Steven Spielberg's Ready Player One. The movie is a story set in 2045 dealing with reality and virtual reality and a race to dominate the virtual world. Waithe plays the masculine and feminine part-human (named Helen), part-machine (named Aech). Spielberg didn't find Waithe through an audition. He was so impressed by footage he saw of her, that she basically had the part. Ready Player One is in theaters now and Waithe is on the cover of Vanity Fair's April 2018 edition as a game changer.
Black-ish alum and Grownish Actress and Activist Yara Shahidi is on the cover of Essence magazine's April issue. The now 18-year old actress enjoys popularity and acclaim, but feels a deeper social commitment, even putting Harvard off for a year to focus on her career and activism. Essence magazine with Yara Shahidi is available now.
An American Idol Champ is back! Ruben Studdard won the second season of American Idol and went on to have some success in the mid 2000's. He often was compared to his singing hero Luther Vandross. Now Studdard gets to pay homage to his biggest influence. Ruben Sings Luther is his new CD and a collection of some of Studdard's favorites by the late Luther Vandross. Never Too Much, So Amazing, Til' My Baby Comes Home and The Power Of Love, just to name a few, are included in this set. Studdard is mounting a tour entitled Always & Forever: An Evening Of Luther Vandross. The tour stops in our area at the Keswick Theater Saturday, April 28th in Glenside.
After powerful profiles of Shirley Caesar, Deborah Cox, Philly's own Blue Magic, Silk, Trick Daddy and The Boys, UnSung is back on Sunday, April 8th at 9pm with Singer/Songwriter Avant.
Singer/Songwriter/Actor John Legend is coming to TV as…..Jesus Christ. The Oscar winner will star in NBC's revival of the legendary Broadway smash Jesus Christ Superstar. Legend is no stranger to Broadway works as he won a Tony for producing the revival of August Wilson's Jitney. This project is the latest in the live revivals of movies and plays by network television. Rock Legend Alice Cooper will also be in the cast. Jesus Christ Superstar will air live on NBC this Easter Sunday at 8pm.
The hit Power has gotten some good news from its cable network Starz. The award winning drama starring Omari Hardwick, Joseph Sikora, Naturi Naughton, Lela Loren and, the show's co-executive producer, Curtis 50 Cent Jackson, was renewed for a six season. 50 Cent is set to direct in that season, but first comes the faith season. And, the fifth season premiere of Power will be Sunday, July 1st at 9pm on Starz.
Halle Berry and Daniel Craig will team up on the big screen for Kings. The movie is based on the L.A. riots of 1992 following the not guilty verdict for the officers caught on videotape beating the late motorist Rodney King. Berry will play a mom of eight children. Kings will be in theaters April 27th.
Mary J. Blige is currently slaying on the cover of the new March issue of Ebony magazine as the cover story Hail Queen saluting her history making career, new projects and reclaiming her power.
Black Panther Star Chadwick Boseman will host Saturday Night Live with Musical Guest Cardi B, pregnant or not on Saturday, April 7th. Meanwhile, Black Panther, also starring Michael B. Jordan, Daniel Kaluuya, Forest Whitaker, Lupita Nyong'o, Angela Bassett, Letitia Wright, and Danai Gurira, is now the highest grossing superhero movie ever and the year's biggest movie with over $1.2 billion at the box office.
Essence magazine released the Essence Music Festival schedule and lineup for 2018. The festivities return to New Orleans July 5th through the 8th. Performers include Janet Jackson, Jilly from Philly Jill Scott, Philly's own The Roots, Snoop Dogg, Erykah Badu, Teddy Riley's New Jack Swing Experience (Wreckx-N-Effect, Blackstreet and Guy), Idris Elba, Fantasia, Miguel and Mary J. Blige with more acts to be announced. All the details are on Essence.com
Check out who's coming to town:
This Saturday, March 31st – Martin Lawrence, Adele Givens, DeRay Davis, Benji Brown and Philly's own Michael Blackson are all coming to Boardwalk Hall in Atlantic City for a comedy concert. For tickets and information log onto boardwalkhall.com/events.
Thursday, April 5th – Patti LaBelle in concert at The Academy Of Music, 240 South Broad Street, between Locust and Manning Streets. For tickets and information log onto kimmelcenter.org
Friday, April 6th - The Isley Brothers in concert at the Xcite Center inside Parx Casino. For tickets and information log onto parxcasino.com
Wednesday, April 11th – Eric B & Rakim in concert at The TLA on South Street between 3rd and 4th and for tickets and information log onto ticketmaster.com.
Friday, April 13th – The Philly Spring Jam starring Ginuwine, Tank, Brandy, Teddy Riley & Guy and 112 at the Liacouras Center and for more information log onto Liacourascenter.com/events.
Saturday, April 28th – Ruben Studdard in concert: Always & Forever, An Evening Of Luther Vandross. The concert will be at The Keswick Theater in Glenside, Pa. and for tickets and information log onto keswicktheatre.com/events/all
Friday, May 11th – The 10th Anniversary Of Platinum Shows' Mother's Day Music Festival begins with the Friday concert starring Singers Joe and Stokley (from Mint Condition) kick things off Friday, May 11th at Caesar's Palace in Atlantic City. For Ticket information log onto ppshows.com.
Saturday, May 12th – The 10th Anniversary Of Platinum Shows' Mother's Day Music Festival with the Saturday concert starring Maxwell, Gladys Knight and Vivian Green at the Boardwalk Hall in Atlantic City. For Ticket information log onto ppshows.com.
Sunday, May 13th – The 10th Anniversary Of Platinum Shows' Mother's Day Music Festival concludes with the Sunday concert starring The Whispers/ L.J. Reynolds & The Dramatics/ The Intruders at The Tropicana in Atlantic City. For Ticket information log onto ppshows.com.
Saturday, May 26th – Philly's own Hall & Oates present The 2nd Annual HoagieNation Festival with Train/ Tommy Conwell & The Young Rumblers/ Fitz & The Tantrums/ Down North/ Beano French and more. It all takes place at Festival Pier on Penns Landing in Philly. For tickets and information visit hoagienation.com
Saturday, May 26th – The Irresponsible Tour starring Kevin Hart at the Boardwalk Hall in Atlantic City.
Saturday, May 26th - It's The Sounds Of Philadelphia starring Russell Thompkins, Jr. & The New Stylistics, The Delfonics & Harold Melvin's Blue Notes at the Xcite Center inside Parx Casino. For tickets and information log onto parxcasino.com
Saturday, June 2nd - The 11th Annual Roots Picnic with host Dave Chappelle. Scheduled to perform with The Roots are 2 Chainz, DVSN, Fabalous, Jadakiss, Rapsody and Brandy, just to name a few. It all takes place at Festival Pier on Penns Landing in Philly. For passes and information log onto rootspicnic.com/philly.
Monday, July 30th – Jay-Z & Beyoncé: 2018 On The Run 2 Tour at Lincoln Financial Field in South Philadelphia. For tickets and information log onto ticketmaster.com.
Saturday, August 25th – Smokey Robinson in concert at the Mann Center For The Performing Arts, 52nd Street & Parkside Avenue. For more information log on to manncenter.org
Wednesday & Thursday, September 19th and 20th – Bruno Mars and Cardi B on Thee 24K Magic North American Concert Tour at the Wells Fargo Center. For tickets and information log onto wellsfargocenterphilly.com.
If you would like more info please email me at PattyJackson@iHeartMedia.com or check me out with my midday reports at 10:30am, 12:30pm and 2:30pm during the day.

Patty Jackson: The 4-1-1
Each week Patty Jackson gives us the latest celebrity news and entertainment gossip in The 4-1-1 every Thursday on WDAS
Read more