Serena vs McEnroe; Halle's low point; Boyz II Men BLVD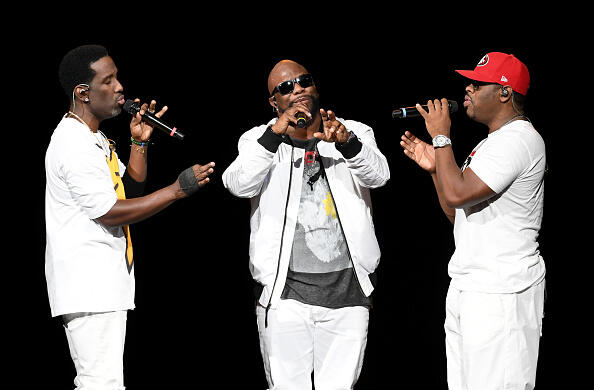 Halle Berry says her historic Oscar win in 2002 didn't mean anything! Berry made history when she won the Lead Actress Oscar for Monster's Ball, making her the first African American to win in that category. Because no other woman of color has won that award after 15 years and the culminating of the #OscarsSoWhite protests, Berry called those moments the lowest in her professional career. Berry talked about how her Oscar win that meant so much to her didn't mean anything after all as she witnessed a continuing lack of diversity in filmmaking and awards. Berry says the solution is more African Americans behind the scenes, so she committed to directing and producing films. She also says she's going to go for the deeper conversations with the Oscar's academy members to try and attack the diversity problem. Meanwhile, Berry is headed to New Orleans to kick off this year's Essence Music Fest by hosting a keynote conversation June the 30th on The Empowerment Stage. It will be Berry's Essence Empowerment debut.
Congratulations to Philly's own Boyz II Men. They were in Philly for their concert appearance with New Kids On The Block and Paula Abdul this past weekend and were given a prestigious Philly honor. A section of Broad Street between, Christian and Carpenter Streets, was officially renamed Boyz II Men Boulevard. That spot is significant because it's near The Philadelphia High School For The Performing And Creative Arts, where Michael McCary, Nathan Morris, Wanya Morris and Shawn Stockman formed the group that would soon dominated the charts with hits like End Of The Road, I'll Make Love To You, MotownPhilly, On Bended Knee, One Sweet Day with Mariah Carey and A Song for Mama. City officials, students, faculty and staff from the Philadelphia High School For The Performing And Creative Arts and Philly residents all came out to salute current group's members and native sons Nathan Morris, Wanya Morris and Shawn Stockman. The trio will also be back in town for The Wawa Welcome America concert for The Fourth Of July. The Queen of Hip Hop Soul Mary J. Bilge is headlining, and Boyz II Men will be honored for the occasion. If you can't get down there, it will be broadcast on NBC 10 on Tuesday, July 4th.
Philadelphia has declared that Kevin Hart Day in the city will happen Thursday, July 6th, and "My Nephew's" new book is called I Can't Make This Up: Life Lessons and it's available now.
The Bachelor In Paradise has now resumed production after Warner Brothers, with the help of a legal team, determined there was no wrong doing on the set after allegations of sexual misconduct. DeMario Jackson and Corinne Olympios were at the center of controversy because Olympios charged that she was too drunk to have consented to a sexual encounter with Jackson on the show. Olympios hired ex-Cosby lawyer and Hollywood insider Marty Singer to defend her. Singer says despite Warner Brothers' declaration of no wrong doing, their own independent investigation continues. Jackson sat down for his first interview since the accusations went public. He had been speaking out through counsel and stated his character and family name have been assassinated. Jackson, 30, talked to E! News, described the encounter, in detail, and trying to put his life back together in the midst of being accused. He spoke about everyone being hurt from his father and aunts to his school teachers and classmates. Jackson broke down when talking about seeing his mom cry every day, but says his dad kept him strong and grounded. He says neither he nor Olympios was drunk, and it only went as far as oral sex. He got a vibe that it would be best to make sure the crew was close behind and cameras kept rolling. That's the footage Warner Brothers used to resume the show, but the studio says it won't release that footage. Jackson says he's not concerned with rejoining the show, but with his family from this ordeal. But, he also wants the footage released. As of now, Bachelor In Paradise, without DeMario Jackson and Corinne Olympios, implemented new rules for the participants in regards to drugs and alcohol. ABC has not announced the air date for the show yet.
Bill Cosby going on tour?!!! Not quite! After the legendary comedian's criminal sexual assault trial ended with a deadlocked jury and a declared mistrial, the Montgomery County D.A. Kevin Steele vowed to retry the 79-year old Cosby for allegedly assaulting former Temple University employee Andrea Constand. The Cosby PR team declared the trial a victory, and said they were developing a speaking tour for the embattled entertainer. The media went wild when it was first reported that it was a sexual assault tour. That changed to reports of an avoiding sexual assault tour. Then, that changed again to a legacy restoring tour without talking about sexual assault or too much detailing Cosby's legal difficulties. Cosby's social media now says he'll be announcing any touring or speaking engagements at the appropriate time. Many legal experts declared any tour could expose Cosby legally since he still faces a host of civil suits. One, in which he's accused of molesting a then 15-year old Judy Huth at the Playboy Mansion in1974, has a trial date set for July 2018. Meanwhile, the judge in the criminal case says he'd like to see a retrial begin 120 days from the first mistrial, which would mean this fall. Cosby has denied all wrong doing.
Serena Williams versus John McEnroe: it's the battle of the Tennis Titans. McEnroe, a 70's and 80's male tennis champ, was on the road promoting his new book when he was asked about Serena Williams tennis legacy. He called her the greatest female player, but he also said she'd only rank about 700 if she were to be compared to men. Williams took the high road….all the way to social media. She released a statement that she adores and respects McEnroe, but advised him to keep her out of his statements that aren't factually based and to respect her privacy because she's busy having a baby. The 35-year old Williams is due to deliver her first child and marry fiancé and Reddit website Founder Alexis Ohanian by the end of the fall. McEnroe decided to turn it up a notch when he was asked in another interview if he should apologize. The 58-year old, best remembered as the Superbrat of Tennis from his legendary on court outbursts, refused to apologize and claimed Williams was acting hysterical because she's pregnant. Social media dragged McEnroe with charges ranging from sexist to desperately trying to sell his book. Williams' high road approach continues.
In more Serena news, Williams posed for legendary Photographer Annie Leibovitz for the layout and cover for Vanity Fair's August edition. Williams goes nude in all her full pregnancy glory for the cover story Serena Williams' Love Match. She and fiancé Alexis Ohanian are also captured together and speak of their whirlwind romance after meeting nearly a year and a half ago.
The June issue of Ebony magazine features Chance The Rapper on the cover. It's the Black Music Month issue.
Zendaya is on the cover of the current issue of Vogue. She's talking about her love life and the twist she wants to put on her Disney stardom. The 20-year old singer/actress has spent the past seven years on two Disney Channel hits Shake It Up and the current K.C. Undercover. Zendaya's gearing up for Spiderman: Homecoming with Tom Holland, Donald Glover (Childish Gambino); Bokeem Woodbine (Jason's Lyric); Marisa Tomei (A Different World), Michael Keaton, Comedian Hannibal Buress and Garcelle Beauvais. Spiderman: Homecoming opens in theaters Friday, July 7th, and Zendaya's Vogue magazine issue is available now.
Missy Elliott graces the cover of Elle magazine for their Women In Music Issue. Elliott talks of her never compromise art-mindset, and never worrying about following trends since she doesn't fit in anyway. Elliott's Elle magazine issue is available now.
The ESPN Body Issue hits stands with the sports world's best stripping down. This year features NBA Star and Boston Celtic Isaiah Thomas WNBA MVP Nneka Ogwumike and NFL/Dallas Cowboy Ezekiel Elliot.
Set It Off Co-stars Queen Latifah and Jada Pinkett Smith reunite and are joined by Regina Hall (Scary Movie; Think Like A Man) and Actress/Comedienne Tiffany Haddish (The Carmichael Show; Real Husbands Of Hollywood) are Essence magazine's July covergirls and star in the ultimate summer buddy picture Girls Trip. The four ladies leave their daily routines and their problems behind when they trek to New Orleans for the Essence Festival. The route to the festival is filled more than a few obstacles, but it's all comedy. Malcolm D. Lee (The Best Man; Undercover Brother) is directing and Kenya Barris (Black-ish; Girlfriends; Barbershop) and Tracy Oliver (The Misadventures of Awkward Black Girl) are among the writers. The July/Girls Trip Essence magazine cover hits newsstands this weekend, and Girls Trip the movie opens Friday, July 21st.
My favorite music series UnSung is back. This summer, the TV One documentary show features the life and career stories of Marvin Sapp (July 16th), Switch (July 23rd), The Dramatics (July 30th), Shanice (August 6th) and Ice-T (August 13th). UnSung airs Sundays at 10pm, but will begin Sunday, July 9th with a special two-part season premiere starting at 9pm with Wyclef Jean followed at 10pm by Jagged Edge on TV One.
Oprah's Master Class returns to OWN this summer with all new episodes. This summer's lineup features Gladys Knight, Tyler Perry, Usher, LL Cool J, Congressman and Civil Rights Hero John Lewis, Shaquille O'Neal, Emmy Winning Actress Lynn Whitfield (Greenleaf) and WDAS Morning Man Steve Harvey. OWN will announce the August premiere date for Oprah's Master Class in the coming weeks.
Snowfall premieres on F/X July 5th. The drama series chronicles the crack cocaine epidemic in 1983 Los Angeles. John Singleton, the Oscar nominated writer-director of Boyz In The Hood, is one of the executive producers. Singleton says the drama series will focus on how first cocaine changed the hood and made way for crack to make things worse. Snowfall will have a 10-episode run on F/X beginning at 10pm Wednesday, July 5th.
Issa Rae is set to return to HBO when Insecure's second season begins July 23rd.
Sportscaster James Brown has gotta a brand new bag….make that look. The 6'5 popular host of CBS' NFL Today has lost 74 pounds. Brown says he's been battling his weight for years, but not with a great deal of success. Brown, 66, attributes his new weight loss to his faith. The grandfather of four went from 292 to 218 with the help of a Christian doctor who helped design a faith-based system for him. Most viewers had noticed Brown shedding the pounds toward the end of the NFL season, and they'll really see it when NFL coverage returns later this summer to CBS.
Never mind about Janet Jackson and soon to be ex-husband Qatari Billionaire Businessman Wissam Al Mana because Rihanna is coming after that spot. RiRi was photographed in a swimming pool giving a more than familiar kiss to a man and now we know who. Hassan Jameel is a 29-year old from Saudi Arabia. Did Jameel hit the jackpot with the 29-year old Work singer, who has a reported net worth of $230 million? Not exactly because Jameel is the deputy president and vice chairman to his family business, which holds the Toyota distribution rights' in Saudi Arabia and owns a soccer team amongst their other holdings. The business is estimated to be worth $1.5 billion. Jameel used to date Supermodel/Actress Naomi Campbell. Campbell, just a few weeks ago, denied on TV a rumor she and Rihanna were feuding, and now these pictures are out and about. Hmmmmmmmmmmmmm!
Idris Elba will make his big screen feature film debut…..as a director. Elba will helm Yardie, the story of a Jamaican gangster caught up in the cold cruel world of the cocaine market from London to Kingston. Elba has cast Actor Aml Ameen (Lee Daniels' The Butler; Harry's Law) in the title role, and the movie is currently filming in Jamaica. Meanwhile, Elba will be back in front of the camera with Matthew McConaughey in Dark Tower. Elba plays a gunslinger in a futuristic world who must stop his enemy, played by McConaughey, from destroying a mystical tower. That tower keeps the world from being overrun by uncontrollable evil. Along the way, Elba must mentor a young boy who proves helpful in the quest to preserve the tower. Dark Tower opens in theaters August 4th.
She's on her way back to Philly Saturday, July 29th at the Mann, but first Diana Ross welcomed another daughter-in-law into the family in a lavish but Bohemian themed wedding for her eldest son Ross Naess. Naess married his long time girlfriend Kimberly Ryan. The couple has a year old son, Leif, and they're expecting their second child together. Naess' siblings, sisters Rhonda Ross Kendrick, Tracee Ellis Ross, Chudney Ross and brother Evan Ross, were all in attendance. Naess' siblings by his late father and Diana Ross' ex husband, Arne Naess, Jr., were also in attendance. Singers Jessica and Ashlee Simpson, who is married Ross's brother Evan, Actor Donald Faison (Waiting To Exhale; Scrubs) and his wife Cacee Cobb joined the other wedding guests for the Naess-Ryan nuptials.
Speaking of Diana Ross and Rhonda Ross Kendrick, mother and daughter are headed to New Orleans for The 23rd Annual Essence Fest. The ladies Ross will join Mary J. Blige, John Legend, Chaka Khan, Philly's own Jazmine Sullivan, India.Arie, Solange, Shirley Jones of The Jones Girls, Ro James, Tweet, Shaggy, Michel'le, Yuna and Lalah Hathaway. The 2017 Essence Fest runs through July 2nd in New Orleans.
Actress/Comedienne Aisha Tyler has announced she'll be leaving The Talk. Tyler got emotional when she announced her departure, but thanked her co-hosts (Julie Chen, Sara Gilbert, Sheryl Underwood and Sharon Osbourne) for getting her through the biggest breakup of her life. The 45-year old says she couldn't have made it without her Talk friends. Tyler was referring to her recent divorce from Jeff Tietjens. The comedienne has to pay Tietjens four years of spousal support. That's more than $31,000 a month plus an additional $500,000. The couple splits the two cars, but Tyler keeps her production/media companies. Tyler and Tietjens were married in 1992, but split in 2016. So why is Tyler leaving The Talk? It's because of scheduling. She co-stars in CBS' Criminal Minds, hosts The CW's Whose Line Is It Anyway, voices the animated FX series Archer and just made her feature film directorial debut with the drama/thriller Axis. Tyler plans to do more directing in the future. The Talk airs on CBS weekdays at 2pm, and Tyler will make her exit at the end of this season in July.
Aretha Franklin has cancelled a Toronto concert appearance. The Toronto Jazz Festival announced Franklin could not travel for her July 1st appearance on doctor's orders. The Queen Of Soul, 75, who is scheduled for a concert at the Mann Center For The Performing Arts Saturday, August 26th, is now scheduled to appear at The 2018 Toronto Jazz Festival next year. Franklin, who's in the midst of prepping a new album, has said she'll be retired from touring within the next year. Best wishes to the original ReRe!
The 2017 Philly's Sexy Singles have been picked, and yours truly is among them. My girl, Philadelphia Daily News Columnist Jenice Armstrong created Philly's Sexy Singles more than 10 years ago, and has always featured the bachelors and bachelorettes in our area who are at the top of their game. I'll be joining my fellow Sexy Singles at The Daily News Singles Party Wednesday, July 26th at the Union Trust Ballroom, 7th and Chestnut, in Center City. The ticket info is at Philly.com. Check out our week of Philly's Sexy Singles reveals in The Daily News beginning the week of July 23rd.
The Essence Of Entertainment returns to The Dell Music Center, 33rd & Ridge Avenue, for the summer of 2017. There'll be two movie nights featuring the films Sing and Moana with big screens and music by DJ Gary O. And, the lineup this summer is incredible. The new season of The Dell Music Center's Essence Of Entertainment 2017 kicks off Thursday, July 6th with all shows staring at 7pm:
July 6th - Johnny Gill, Jaheim & After 7
July 13th - Dramatics Featuring LJ Reynolds, Harold Melvin's Blue Notes, Intruders & Bloodstone
July 20th - KEM, Keke Wyatt & Lalah Hathaway
July 27th - Monica, Joe & Tank
Friday, July 28th - Black Pearl Chamber Orchestra & Philadanco
Saturday, July 29th- Patty Jackson's Party In The Park starring The O'Jays, The Whispers & Force MD's
August 3rd -Fantasia & Kenny "Babyface" Edmonds
August 10th - Erykah Badu & Ro James
August 17th - Sheila E, Dave Koz & Larry Graham
August 24th - Maze Featuring Frankie Beverly
Check out who's coming to town:
Saturday, July 8th – Charlie Wilson & Chante Moore at The Mann Center For The Performing Arts, 52nd & Parkside Avenue and for tickets and information log onto manncenter.org.
Sunday, July 16th – Jill Scott in concert at The Borgata Hotel & Casino in Atlantic City and for tickets and information log onto theborgata.com.
Saturday, July 29th – Diana Ross' In The Name Of Love Tour at The Mann Center For The Performing Arts, 52nd & Parkside Avenue and for tickets and information log onto manncenter.org.
Tuesday, August 1st – Earth, Wind & Fire and CHIC featuring Nile Rodgers at The Wells Fargo Center. For tickets and information log onto wellsfargocenterphilly.com.
Sunday, August 13th – Kool & The Gang and The Commodores in concert at The Borgata Hotel & Casino in Atlantic City and for tickets and information log onto theborgata.com.
Wednesday, August 16th – The All The Hits Tour Starring Lionel Richie & Special Guest Star Mariah Carey at The Wells Fargo Center. This is the new date from the cancelled March concert. Tickets and information at wellsfargocenterphilly.com.
Friday, August 25th – Smokey Robinson in concert at The Tropicana Hotel & Casino in Atlantic City and for tickets and information log onto Tropicana.net
Saturday, August 26th – Aretha Franklin performing the hits & the great diva classics at The Mann Center For The Performing Arts, 52nd & Parkside Avenue and for tickets and information log onto manncenter.org.
Friday, September 1st - The I Love The 90's Tour: The Party Continues starring Blackstreet, TLC, Montell Jordan, Naughty By Nature, Biz Markie, Snap and C&C Music Factory at The BB&T Pavilion in Camden, NJ.
Saturday & Sunday September 2nd & 3rd – J. Cole and The Chainsmokers will headline Jay-Z and Live Nation's Made In America concert. Solange, Pusha T, 21 Savage, Tiwa Savage, Ari Lennox and DMX are also on the bill. The two day concert festival will take place on the Ben Franklin Parkway Labor Day Weekend. Go to madeinamericafest.com for tickets and information.
Tuesday, October 10th – Bruno Mars in concert at The Wells Fargo Center. For tickets or for more information log onto wellsfargocenterphilly.com.
Friday, November 10th – Janet Jackson at The Boardwalk Hall in Atlantic City. For tickets or for more information log onto boardwalkhall.box-officetickets.com.
Saturday, November 11th – Janet Jackson at The Sands Bethlehem Event Center. For tickets or for more information log onto sandsbethlehememovementseventcenter.ticketoffics.com
Monday, November 13th – Janet Jackson at The Wells Fargo Center. For tickets or for more information log onto wellsfargocenterphilly.com.
Friday, December 1st – Sinbad comedy show at The Keswick Theater in Glenside, Pa. and for more information log onto keswicktheatre.com
If you would like more info please email me at pattyj1053@aol.com or Pattyjackson@clearchannel.comor check me out with my midday reports at 10:35am, 12:35pm and 2:35pm during the day.

Patty Jackson: The 4-1-1
Each week Patty Jackson gives us the latest celebrity news and entertainment gossip in The 4-1-1 every Thursday on WDAS
Read more