Former Eagles' QB Donovan McNabb Accused Of Sexual Harassment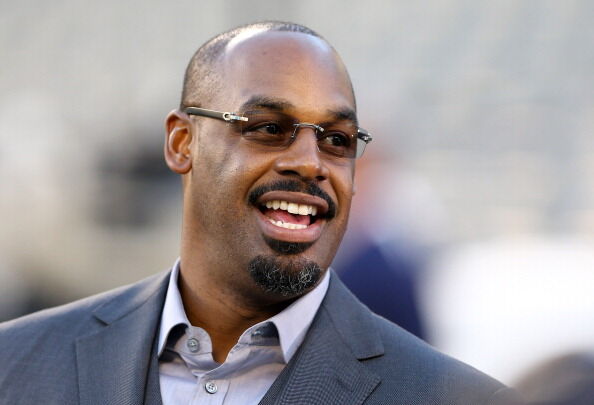 Former Philadelphia Eagles quarterback Donovan McNabb has been accused of sexual harassment. Jami Cantor, a former wardrobe stylist for the NFL Network, claims McNabb texted her "explicit comments during his time as an analyst for the network." McNabb has yet to respond to the claims. The lawsuit also mentions former NFL players Marshall Faulk, Ike Taylor and Heath Evans, former NFL Network executive Eric Weinberger, former NFL Network analyst Warren Sapp and Eric Davis, also formerly of the NFL Network.
Via Philly.com:
In the complaint, Cantor says that [Marshall] Faulk, an NFL Hall of Famer, groped her breasts and exposed his genitals while demanding oral sex. She accused [Heath] Evans, a former fullback, of texting her nude pictures, and said [Ike] Taylor, a former cornerback, sent her a video of him masturbating while in the shower.
Cantor also alleged that former NFL Network executive Eric Weinberger, now the president of Bill Simmons Media Group, groped her and rubbed his crotch against her. The media company called the allegations "very serious and disturbing" and placed Weinberger on leave indefinitely while it investigates.
Former NFL Network analyst Warren Sapp, fired by the network in 2015 after having been arrested for soliciting prostitution, was also named in the lawsuit, as was Eric Davis, who left the NFL Network in 2013 and works as an analyst for FS1 and a host on ESPN Radio LA.
The NFL Network declined to comment beyond confirming that it had suspended the former players. Representatives for Faulk, Evans and Taylor did not immediately respond to requests for comment.
Here is the full amended lawsuit.
Photo Credit: Getty Images

Patty Jackson: Patty TV
Listen to Patty Jackson every weekday from 10am-3pm and Sundays 8am-12n
Read more