February 21: Will Smith and DJ Jazzy Jeff
When Jeff Townes met Will Smith at a party in 1985 all he needed was a hype man. Smith filled the role, immediately clicked with Jeff creatively, and the rest is history. The two Philadelphia-born and raised men have been responsible for "Girls Ain't Nothing But Trouble", "Parents Just Don't Understand" and the famous Philly anthem, "Summertime". The duo released their first album Rock The House in 1987 followed by He's The DJ, I'm The Rapper (1988), And In This Corner (1989), Homebase (1991), and Code Red (1993). Pivotal to a classic era in hip-hop history, the duo were among the groups showcased in the very first "Yo! MTV Raps" episode. Both men also hit the TV screen together when Will Smith debuted in the beloved sitcom "The Fresh Prince of Bel-Air" in 1990, with Jeff in a recurring role as Jazz, Will's best friend. Beyond Smith's megawatt, A-List superstar status, the duo will forever be fondly remembered for Will's profanity-free, effortless, lighthearted story-raps, and Jazzy Jeff's signature scratching.
Willard Carroll "Will" Smith Jr. is an actor, producer, rapper, and songwriter. He was named "the most powerful actor in Hollywood" in the April 2007 Newsweek. Will has been nominated for five Golden Globe Awards and two Academy Awards, and has won four Grammy Awards. Smith has been ranked as the most bankable star worldwide by Forbes and as of 2016 his films have grossed $7.5 billion, for his performances in Ali (2001) and in The Pursuit of Happyness (2006). Smith has received nominations for the Academy Award: Best Actor.
Jeffrey Allen Townes also known as DJ Jazzy Jeff or simply Jazz, was born in West Philadelphia. He is a hip hop and R&B disc jockey, record producer, turntablist and actor who is best known for his early career with Will Smith as DJ Jazzy Jeff & The Fresh Prince. Over the course of his career, DJ Jazzy Jeff has achieved many accomplishments including a DMC Championship and multiple GRAMMY and American Music nominations and awards.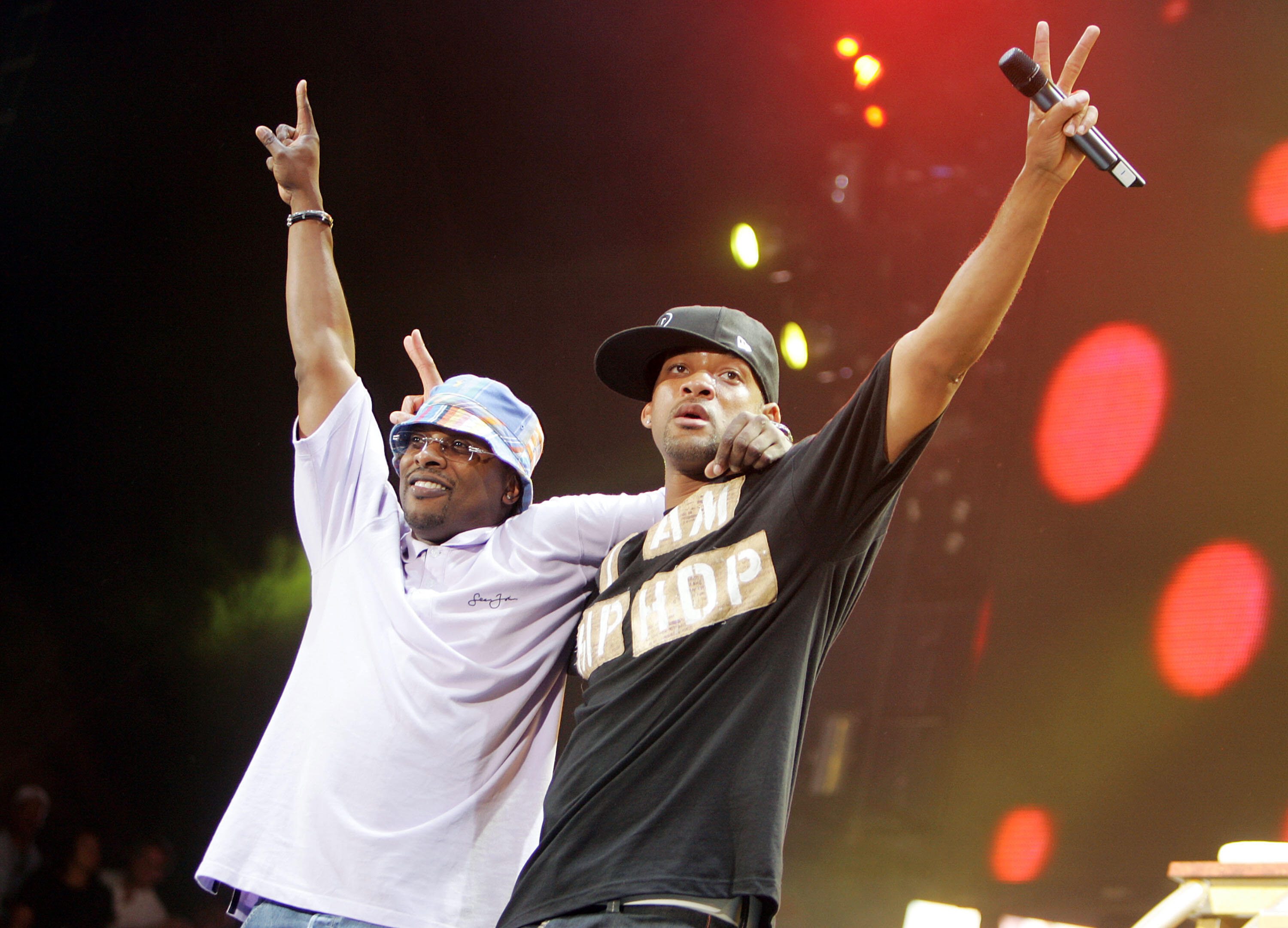 Photo: Getty Images