Bill Cosby Found Guilty; What's Next For Meek Mill?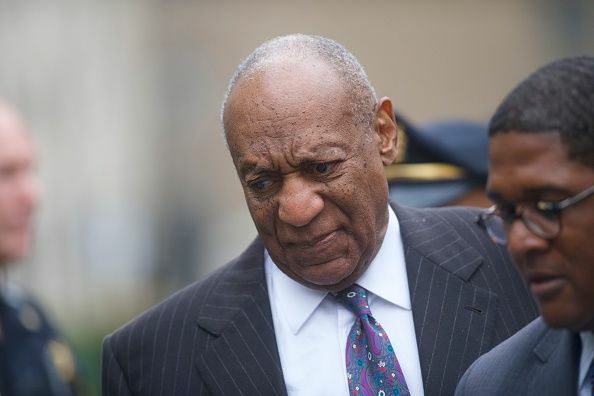 Bill Cosby was found guilty on all counts in his sex assault re-trial. So what's next for the actor and comedian? He's facing a 10-year prison sentence. The 80-year-old is legally blind.
There is life after Scandal! Actress Kerry Washington is the Cover Girl for the latest edition of Essence Magazine's May #Woke100 issue.
At the movies it's The Avengers: Infinity War. All the Marvel characters come together to battle the new villian Thanos. Who will survive? Let's just say there are a lot of surprises including cameos by Vin Diesel, Bradley Cooper and Idris Elba. YOU SHOULD STAY UNTIL THE END OF THE CREDITS! Marvel always has a surprise at the end. Let's just say 2019 will answer all of your questions.
Speaking of 2019 there are a lot of movies on tap including the live action version of Aladdin with Will Smith as the Genie and the live version of The Lion King July 19, 2019 starring Donald Glover, Beyonce, James Earl James, Chiwetel Ejiofor, John Oliver, Alfre Woodard, Billy Eichner and Seth Rogen.
Chris Rock's new movie with Adam Sandler is now streaming on Netflix. The pair stars as two dads whose kids are getting married. Also coming to Netflix is TheCW show Black Lightning. Black Lightning airs on Tuesday nights. The show stars Cress Williams as a dad with superpowers along with his daughters played by Nafessa Williams and China Anne McClain. Season one is streaming on Netflix.
It's almost 30 years since In Living Color and some of the guys are getting together for a comedy tour. Keenan Ivory Wayans, Shawn Wayans, David Allen Grier and Tommy Davidson are about to hit the road.
What's next for Meek Mill? Well Judge Geniece Brinkly is refusing to take herself off the case and a hearing is taking place in June about a crooked cop and his testimony. Did he lie about Meek? Meek spent the past five months in jail and hopefully this will serve as a teachable moment in his life. He will be able to help others who are incarcerated and get back to touring and making music.
Tracy Morgan's new comedy show The Last O.G, which airs Tuesday nights on the TBS Network, has been renewed for a second season. I love this show! It also stars Tiffany Haddish and Cedric the Entertainer.
It's been two years since we lost Prince and no charges have been filed in his death. Prince overdosed on Fentanyl not realizing what he was taking. He thought it was the pain med Oxycotin. Now Prince's family is planning to sue the Illinois hospital he was at in addition to Walgreens where received his prescriptions
It's time to celebrate the 20th anniversary of the Grammy winning, platinum selling album The Miseducation of Lauryn Hill. It was Hill's dramatic first solo effort outside of her longtime membership in The Fugees. Though she's made other albums, The Miseducation was her landmark. Hill is going on a special anniversary tour and will appear at Penns Landing's Festival Pier on Friday, July 13th and tickets are on sale now. Log on to ticketmaster.com for more information.
Childish Gambino, a.k.a. Emmy Winning Actor/Director of Atlanta, a.k.a. Donald Glover will both host and be the musical guest for Saturday Night Live on May 5th.
En Vogue has a new reality show coming to BET. The veteran group has just released new music and the video for their Ne-Yo written new single Rocket. En Vogue, created back in 1990 by R&B Producers Foster & McElroy, have enjoyed platinum selling success and incredible popularity to the point of touring and acting opportunities and welcoming new member Actress/Singer Rhona Bennett. There have also been lows like the original members (Dawn Robinson and Maxine Jones) departing, fighting in court for the use of the name, and splinter groups that tried to pop up on the scene. En Vogue has their comeback ready now though. Their new album Electric Café is available now and their new BET reality show, Ladies Night, with Salt & Pepa and SWV, is currently in production in Atlanta.
BET has a new original legal drama. In Contempt is a scripted show that focuses on the underfunded but heavily burdened public defender's office. The relationships, both professional and personal, find their way into court. In Contempt stars Erica Ash (Real Husbands of Hollywood; Uncle Drew; Survivors' Remorse), Christian Keyes (Saints & Sinners; Let's Stay Together) and Richard Lawson (Scream Blacula Scream; Dynasty; All My Children), and airs Tuesdays at 10pm on BET.
WDAS presents our Second Annual Sista Strut Breast Cancer Walk taking place Saturday, June 16, 2018 at XFINITY Live! Philadelphia, 201 North 17th Street. All the registration info and details are on the wdasfm.com page.
NBA Champ Kyrie Irving is getting into movies with Shaquille O'Neal, Reggie Miller, Chris Weber, Lisa Leslie, Erica Ash and Tiffany Haddish. Irving stars as elderly basketball playing Uncle Drew in a big screen adventure based on the character created for the Pepsi Max commercials. Philly's own Charles Stone, III directs this big screen adaption. Uncle Drew hits theaters June 29th.
Michael B. Jordan is in the midst of filming Creed II in the city of Philadelphia, but he's also on the cover of the May issue of Men's Health magazine. Jordan also reveals he doesn't want to meet his name counterpart, the legendary Michael Jordan, yet. Jordan says he's motivated by things like not wanting to meet the basketball legend until they both know who the other is and the meeting is on a more equal footing. The actor also says the career he'd prefer to emulate is that of Philly's own Will Smith, whom he says is killing the game. For now, you can catch Jordan in North America's all time box office champion Black Panther, in theaters now.
Issa Rae (Insecure) & Yara Shahidi (Black-ish alum and Grownish) split the cover of Marie Claire Magazine for the May 2018 edition, and Shahidi is also on the cover of Essence Magazine's April issue.


Gabrielle Union signs first look deal with Sony. The actress, who's on this month's feature cover for Ebony Magazine and its Travel Edition, has a two-year pact which covers TV, cable and digital projects for Sony TV. Union is also filming the pilot to the Bad Boys movie spinoff, L.A.'s finest with Jessica Alba. Union also has a Mother's Day themed thriller due out called Breaking In. She's a mom who must save her children being held hostage. Breaking In opens Mother's Day weekend May 11th.
Essence Magazine released the Essence Music Festival schedule and lineup for 2018. The festivities return to New Orleans July 5th through the 8th. Performers include Janet Jackson, Jilly from Philly, Jill Scott, Philly's own The Roots, Snoop Dogg, Erykah Badu, Teddy Riley's New Jack Swing Experience (Wreckx-N-Effect, Blackstreet and Guy), Idris Elba, Fantasia, Miguel and Mary J. Blige, with more acts to be announced. All the details are on Essence.com
Emmy winning Writer/Actress Lena Waithe is co-starring in Steven Spielberg's Ready Player One, which is in theaters now, and Waithe is on the cover of Vanity Fair's April 2018 edition as a game changer.
Halle Berry and Daniel Craig will team up on the big screen for Kings. The movie is based on the L.A. riots of 1992 following the not-guilty verdict for the officers caught on videotape beating the late motorist Rodney King. Berry will play a mom of eight children. Kings will be in theaters April 27th.
The hit Power has gotten some good news from its cable network Starz. The award winning drama starring Omari Hardwick, Joseph Sikora, Naturi Naughton, Lela Loren and, the show's co-executive producer, Curtis '50 Cent' Jackson, was renewed for a sixth season. 50 Cent is set to direct in that season, but first comes the fifth season which premieres Sunday July 1st at 9pm on Starz.
Check out who's coming to town:
Saturday, April 28th – Ruben Studdard in concert: Always & Forever, An Evening of Luther Vandross. The concert will be at The Keswick Theater in Glenside, Pa. and for tickets and information log onto keswicktheatre.com/events/all
Friday, May 11th – The 10th Anniversary of Platinum Shows' Mother's Day Music Festival begins with the Friday concert starring Singers Joe and Stokley (from Mint Condition) kick things off Friday, May 11th at Caesar's Palace in Atlantic City. For ticket information log onto ppshows.com.
Saturday, May 12th – The 10th Anniversary of Platinum Shows' Mother's Day Music Festival with the Saturday concert starring Maxwell, Gladys Knight and Vivian Green at the Boardwalk Hall in Atlantic City. For ticket information log onto ppshows.com.
Sunday, May 13th – The 10th Anniversary of Platinum Shows' Mother's Day Music Festival concludes with the Sunday concert starring The Whispers/ L.J. Reynolds & The Dramatics/ The Intruders at The Tropicana in Atlantic City. For ticket information log onto ppshows.com.
Saturday, May 26th – Philly's own Hall & Oates present The 2nd Annual HoagieNation Festival with Train/ Tommy Conwell & The Young Rumblers/ Fitz & The Tantrums/ Down North/ Beano French and more. It all takes place at Festival Pier on Penns Landing in Philly. For tickets and information visit hoagienation.com
Saturday, May 26th – The Irresponsible Tour starring Kevin Hart at the Boardwalk Hall in Atlantic City.
Saturday, May 26th - It's The Sounds of Philadelphia starring Russell Thompkins, Jr. & The New Stylistics, The Delfonics & Harold Melvin's Blue Notes at the Xcite Center inside Parx Casino. For tickets and information log onto parxcasino.com
Saturday, June 2nd - The 11th Annual Roots Picnic with host Dave Chappelle. Scheduled to perform with The Roots are 2 Chainz, DVSN, Fabalous, Jadakiss, Rapsody and Brandy, just to name a few. It all takes place at Festival Pier on Penns Landing in Philly. For passes and information log onto rootspicnic.com/philly.
Saturday, July 21st Cedric the Entertainer comedy show at The Sugar House Casino. For tickets and information log onto sugarhouseentertainment.com
Monday, July 30th – Jay-Z & Beyoncé: 2018 On The Run II Tour at Lincoln Financial Field in South Philadelphia. For tickets and information log onto ticketmaster.com.
Saturday, August 25th – Smokey Robinson in concert at the Mann Center for the Performing Arts, 52nd Street & Parkside Avenue. For more information log on to manncenter.org
Wednesday & Thursday, September 19th and 20th – Bruno Mars and Cardi B on The 24K Magic North American Concert Tour at the Wells Fargo Center. For tickets and information log onto wellsfargocenterphilly.com.
If you would like more info please email me at PattyJackson@iHeartMedia.com or check me out with my midday reports at 10:30am, 12:30pm and 2:30pm during the day.

Patty Jackson: The 4-1-1
Each week Patty Jackson gives us the latest celebrity news and entertainment gossip in The 4-1-1 every Thursday on WDAS
Read more