Cardi B Pregnant?!! Bonet vs Coz! Surprise Affair?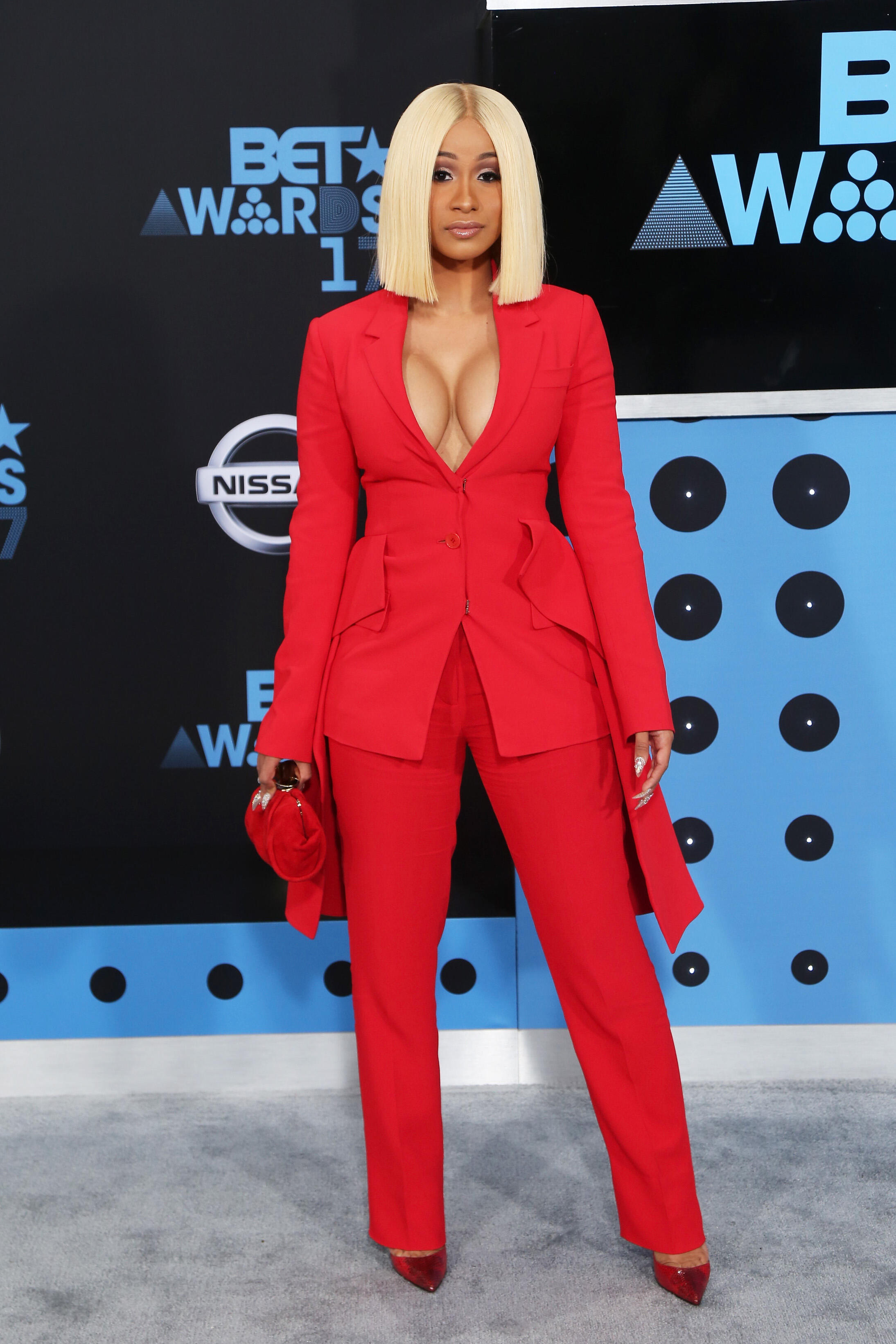 Photo by Maury Phillips/Getty Images
After denying initial reports, it appears Rapper Cardi B is pregnant. As of press time, she's still to keep her commitment at The Coachella Music Festival. Remember Beyoncé pulled out of that same musical festival when she was pregnant. What about Cardi B's tour with Bruno Mars? The two have the new hit Finesse climbing the charts and are scheduled to be in Philly September 19th and 20th. Will she still go on the 24K Magic tour with Bruno? Also at press time, Cardi B still has yet to confirm she's even pregnant. Stay tuned!!!
Speaking of Bruno Mars, is he guilty of cultural appropriation, a.k.a. jacking black music?!!!! Mars' songs have plenty of hip hop and soul music flavor (That's What I Like; 24K Magic; Nothin' On You with Rapper B.O.B.), and he's got a band backing him up on rhythm and vocals known as Bruno Mars & The Hooligans. They even played the Apollo for his holiday TV special. So critics now say Mars, who is of Puerto Rican, Jewish and Filipino descent, is helping himself to the culture. But, some members of R&B royalty are coming to the singer/songwriter's defense. Fellow Singer/Songwriter Charlie Wilson even took to social media, congratulated and thanked Mars for his Grammy winning album. That praise from Uncle Charlie despite the now settled suit over Uptown Funk, which sampled The Gap Band's Oops Upside Your Head. The Rock & Roll Hall Of Famers The O'Jays also defended Mars. For his part, Mars says he grew up on 90's R&B and is well aware of its influence on his current music. He says from hearing Boyz II Men, Babyface, TLC, Whitney Houston, Puff Daddy, Dr. Dre and Aaliyah from the school to the BBQ, he wouldn't be here without them.
Cuba Gooding Jr. & Mindy Kaling….. caught sneaking out of a hotel?!!! Gooding, Jr., the Oscar winning actor who turned in riveting performance as O.J. Simpson two years ago, was caught with the 38-year old actress/comedienne by photographers. Kaling recently gave birth to a baby girl in December and wasn't linked to any man publicly. Published reports are hinting Gooding, who last year filed for divorce after 23 years of marriage to Sara Kapher, may have been that man in Kaling's life. Hmmmmmmmmm! Gooding is set to head up a revival of the Broadway smash Chicago in London. Kaling is currently co-starring in the big screen's A Wrinkle In Time, directed by Ava DuVernay and co-starring Reese Witherspoon, Gugu Mbatha-Raw, Chris Pine, Storm Reid and Oprah Winfrey. The film took in over $30 million in its opening week, but may struggle to redeem its $100 million budget.
The hit Power has gotten some good news from its cable network Starz. The award winning drama starring Omari Hardwick, Joseph Sikora, Naturi Naughton, Lela Loren and, the show's co-executive producer, Curtis 50 Cent Jackson, was renewed for a six season. 50 Cent is set to direct in that season, but first comes the faith season. And, the fifth season premiere of Power will be Sunday, July 1st at 9pm on Starz.
WDAS Special Trailblazing Woman of Excellence honoree Queen Latifah and Singer Toni Braxton both have landed new deals with Lifetime. Braxton has signed a multi-picture deal with the network that will include a holiday movie to debut in Lifetime's November-December holiday movie takeover. Meanwhile, Queen Latifah will executive produce two projects for Lifetime. The documentary, Where Did The Women Of Hip Hop Go, will explore the struggles and current position of women in the male dominated hip hop music industry. The Oscar-nominated Latifah will also produce UNITY, which will chronicle her remake of her 1993 Grammy winning single U.N.I.T.Y.
Speaking of Queen Latifah, she'll be WDAS' Trailblazing Woman of Excellence at WDAS' Fourth Annual Women Of Excellence Luncheon on Saturday, March 31st. Singers Will Downing, Philly's own Vivian Green and Major (Honest; Why I Love You) will all be performing. This year's other honorees include Broadcast Legend Rev. Louise Williams Bishop, City Councilwoman Cherelle Parker, TV Icon Lisa Thomas Laury, First Lady of Mother Bethel AME Church Leslie Patterson-Tyler and The Philadelphia Tribune's own Shonda McClain. It all takes place Saturday, March 31st from 11am-4pm at The Sheraton Philadelphia Downtown, 17th and Race. All the details are at wdasfm.com.
Lisa Bonet speaks out on her TV dad Bill Cosby. In 1984, Bonet got her big break as "Denise Huxtable" on The Cosby Show when she replaced the late Whitney Houston in the role. She was chosen by Cosby and became a superstar. Things became strained when Bonet took an adult role with nudity and a sex scene in the 1987 film Angel Heart. Despite that, Cosby created a spinoff for her character called A Different World. The show was number two in the ratings and only The Cosby Show was bigger. On set problems and pregnancy by her marriage to Singer Lenny Kravitz forced Cosby to bring Bonet back to his show. But, that lasted three years until Cosby fired Bonet over creative differences. She's been mum until now. Bonet concedes she knew of no specific wrongdoing but there was always a dark, sinister air about Cosby. Bonet says if she knew more, she'd speak up as that's her nature and the truth is always freeing. She says karma will prevail here. Cosby, set to go on retrial for criminal sexual assault in less than a month, hasn't commented on Bonet. In more Cosby news, the California Supreme Court rejected his bid to have a defamation suit by Supermodel Janice Dickenson tossed out. The case will proceed and Cosby's former lawyer Marty Singer can now also be sued as a result. Dickenson sued Cosby for defamation of character after she accused him of rape, he denied it and Dickenson then claimed Cosby and his legal team branded her a liar in the process of denying her allegations.
ABC's Black-ish, starring Anthony Anderson & Tracee Ellis Ross had to pull an episode over creative differences. The highly acclaimed but sometimes controversial show has tackled topics ranging from slavery, to postpartum depression, police brutality, and children using racial slurs. So what happened? A planned show about the NFL protests was up next. Creator and Executive Producer Kenya Barris released a statement that producers and the ABC network couldn't resolve their differences and mutually decided to shelve the show. ABC/Disney Studios produces Black-ish, and also owns ESPN, a longtime NFL programmer. Published reports hint at those relationships possibly being at the heart of the conflict. Time may very well tell.
Angela Rye and Common split up. After appearing together on the Love Issue of last month's Ebony magazine, the Woke twosome has decided to just be friends. Both say they're better for the experience and the split was amicable.
An American Idol Champ is back! Ruben Studdard won the second season of American Idol and went on to have some success in the mid 2000's. He often was compared to his singing hero Luther Vandross. Now Studdard gets to pay homage to his biggest influence. Ruben Sings Luther is his new CD and a collection of some of Studdard's favorites by the late Luther Vandross. Never Too Much, So Amazing, Til' My Baby Comes Home and The Power Of Love, just to name a few, are included in this set. Studdard is mounting a tour entitled Always & Forever: An Evening Of Luther Vandross. The tour stops in our area at the Keswick Theater Saturday, April 28th in Glenside.
Nick Gordon arrested again for domestic violence. Gordon was the former boyfriend/play brother of the late Bobbi Kristina Brown, the daughter of Singers Bobby Brown and the late Whitney Houston. Gordon was arrested following an altercation with his new girlfriend Laura Leal. Reportedly, there was a previous arrest involving Gordon and Leal a year ago. Leal sided with Gordon and worked to get those charges dropped then, but here they are again under those same circumstances. Gordon was sued by Bobby Brown and the estate of Bobbi Kristina. Gordon was found liable for Bobbi Kristina's death after she was found drowned in a bathtub. A criminal investigation into Bobbi Kristina's death has never been closed and this new domestic violence arrest could affect that investigation.
We remember Rapper Craig Mack. Mack was the first artist to have a release on Bad Boy Records, the label founded and owned by Sean Puffy Combs. Mack was born in the Bronx and raised on Long Island. Under the name MC EZ, he released his debut single thirty years ago called Just Rhymin' while he was still a teen. There wasn't a strong enough follow up and Mack took to working the club scene for years. That gave him the opportunity to meet Sean Combs, who signed him to Bad Boy. Mack's 1994 album Funk Da World was certified gold as was the single Get Down, and his biggest hit, the platinum certified Flava In Ya Ear. Mack left Bad Boy after only a few years as his momentum competed too much with Bad Boy's other legendary artist The Notorious B.I.G. After a few more releases for other labels, Mack walked away from the business to follow religion. Unfortunately, his church, Overcomer Ministry, has been criticized as a cult following the criminal sexual conduct arrest of its leader Ralph Stair. Mack's close friends say he suffered from congestive heart failure. Craig Mack was 47 years old.
We remember two longtime members of the iHeart family. Barbara Summers was a longtime Power 99 FM midday air personality and production director. In the early days of Power 99's mix of R&B and early rap/hip hop, Summers proved one the station's leading talents. Summers even hosted the KYW-TV Saturday Afternoon program Check It Out on CBS3 with Jerry Penacoli, now of Extra TV. Summers was a radio trailblazer in the Philadelphia market and mentor to many of us in the field. Summers was just shy of her 65th birthday when she died.
We also remember Talent Manager and Record Executive Iris Perkins. Perkins became a staple in the Philly area and a fixture at WDAS. A good friend to the late WDAS Program Director Butterball, Perkins was pivotal to working with Butter and the WDAS staff to bring talent to the area for many a WDAS event. At one time, Perkins managed Singer/Actress Vesta Williams, whose song Congratulations became an anthem. Iris Perkins will be sorely missed by the radio industry.
Braxton Family Values returns Thursday, March 22nd at 9pm on WE-TV.
The Roxanne Shante' Story is coming to Netflix. The pioneering female rap star and charter member of the Juice Crew burst upon the scene starting in 1984 with the cuts Hanging Out and Roxanne, Roxanne. Her other hits include Sparky's Turn; Roxanne You're Through; Have A Nice Day; and Go On Girl. Now the story of the rap legend is coming to the small screen. Chante Adams, Oscar Winner Mahershala Ali (Moonlight) and Nia Long (Best Man; Love Jones; Big Momma's House) bring the life and career of Roxanne Shante' to the screen. Roxanne Roxanne begins streaming on Netflix Friday, March 23rd.
Teyana Taylor & Iman Shumpert are bringing their life to the small screen in the new reality show Teyana & Iman. The singer and actress and her NBA baller husband chronicle their everyday life as they maneuver their busy careers and their parenthood duties for their young daughter Junie. Teyana and Iman premieres Monday, March 26th at 9pm on VH1!
UnSung is back on TV One profiling Deborah Cox this Sunday at 9pm.
Tiffany Haddish joins Tracy Morgan for the series The Last OG, which debuts on TBS Tuesday, April 3rd at 10:30pm.
Halle Berry and Daniel Craig will team up on the big screen for Kings. The movie is based on the L.A. riots of 1992 following the not guilty verdict for the officers caught on videotape beating the late motorist Rodney King. Berry will play a mom of eight children. Kings will be in theaters April 27th.
Taraji P. Henson will be starring in Tyler Perry-psychological-thriller Acrimony, co-starring Tika Sumpter (The Haves & Have Nots; Ride Along), opening March 30th.
Black Panther has crossed the billion dollar mark worldwide at the box office news, and Marvel/Disney has confirmed plans for a sequel are underway. Black Panther marked the biggest debut by an African American director in history (Director and Co-writer Ryan Coogler). Chadwick Boseman, Lupita Nyong'o, Angela Bassett, Michael B. Jordan, Danai Gurira, Daniel Kaluuya, Forest Whitaker, Phylicia Rashad and Sterling K. Brown lead the cast.
Mary J. Blige is currently slaying on the cover of the new March issue of Ebony magazine as the cover story Hail Queen saluting her history making career, new projects and reclaiming her power.
Black Panther keeps rolling as Chadwick Boseman covers Rolling Stone in a much talked about cover shot and Essence magazine's March issue is also a salute to the movie. There are three Essence covers featuring Chadwick Boseman, the second with the men (Boseman, Michael B. Jordan, Daniel Kaluuya and Forest Whitaker) and the third with the ladies (Lupita Nyong'o, Angela Bassett, Letitia Wright and Danai Gurira).
The Sports Illustrated Swimsuit issue is out and 24-year old Danielle Herrington, becomes just the third black woman to grace the cover after Tyra Banks and Beyonce. Sports Illustrated's Swimsuit Issue with cover model Danielle Herrington is on stands now.
Lee Daniels' dramas Empire and Star return to FOX Wednesday nights March 28th beginning at 8pm.
Singer/Songwriter/Actor John Legend is coming to TV as…..Jesus Christ. The Oscar winner will star in NBC's revival of the legendary Broadway smash Jesus Christ Superstar. Legend is no stranger to Broadway works as he won a Tony for producing the revival of August Wilson's Jitney. This project is the latest in the live revivals of movies and plays by network television. Rock Legend Alice Cooper will also be in the cast. Jesus Christ Superstar will air live on NBC Easter Sunday, April 1st.
NBA Champ Kyrie Irving is getting into movies with Shaquille O'Neal, Reggie Miller, Chris Weber, Lisa Leslie, Erica Ash and Tiffany Haddish. Irving stars as elderly basketball playing Uncle Drew in a big screen adventure based on the character created for the Pepsi Max commercials. Philly's own Charles Stone, III directs this big screen adaption. Uncle Drew hits theaters June 29th.
Essence magazine released the Essence Music Festival schedule and lineup for 2018. The festivities return to New Orleans July 5th through the 8th. Performers include Janet Jackson, Jilly from Philly Jill Scott, Philly's own The Roots, Snoop Dogg, Erykah Badu, Teddy Riley's New Jack Swing Experience (Wreckx-N-Effect, Blackstreet and Guy), Idris Elba, Fantasia, Miguel and Mary J. Blige with more acts to be announced. All the details are on Essence.com
Check out who's coming to town:
This Sunday, March 18th – Jeffrey Osborne in concert & celebrating the May 25th release of his new album Worth It All. The concert will be at The Keswick Theater in Glenside, Pa and for tickets and information log onto keswicktheatre.com/events/all
Saturday, March 31st – Martin Lawrence, Adele Givens and DeRay Davis are all coming to Boardwalk Hall in Atlantic City for a comedy concert. For tickets and information log onto boardwalkhall.com/events.
Thursday, April 5th – Patti LaBelle in concert at The Academy Of Music, 240 South Broad Street, between Locust and Manning Streets. For tickets and information log onto kimmelcenter.org
Wednesday, April 11th – Eric B & Rakim in concert at The TLA on South Street between 3rd and 4th and for tickets and information log onto ticketmaster.com.
Friday, April 13th – The Philly Spring Jam starring Ginuwine, Tank, Brandy, Teddy Riley & Guy and 112 at the Liacouras Center and for more information log onto Liacourascenter.com/events.
Saturday, April 28th – Ruben Studdard in concert: Always & Forever, An Evening Of Luther Vandross. The concert will be at The Keswick Theater in Glenside, Pa. and for tickets and information log onto keswicktheatre.com/events/all
Friday, May 11th – The 10th Anniversary Of Platinum Shows' Mother's Day Music Festival begins with the Friday concert starring Singers Joe and Stokley (from Mint Condition) kick things off Friday, May 11th at Caesar's Palace in Atlantic City. For Ticket information log onto ppshows.com.
Saturday, May 12th – The 10th Anniversary Of Platinum Shows' Mother's Day Music Festival with the Saturday concert starring Maxwell, Gladys Knight and Vivian Green at the Boardwalk Hall in Atlantic City. For Ticket information log onto ppshows.com.
Sunday, May 13th – The 10th Anniversary Of Platinum Shows' Mother's Day Music Festival concludes with the Sunday concert starring The Whispers/ L.J. Reynolds & The Dramatics/ The Intruders at The Tropicana in Atlantic City. For Ticket information log onto ppshows.com.
Saturday, May 26th – The Irresponsible Tour starring Kevin Hart at the Boardwalk Hall in Atlantic City.
Saturday, June 2nd - The 11th Annual Roots Picnic with host Dave Chappelle. Scheduled to perform with The Roots are 2 Chainz, DVSN, Fabalous, Jadakiss, Rapsody and Brandy, just to name a few. It all takes place at Festival Pier in Philly. For passes and information log onto rootspicnic.com/philly.
Monday, July 30th – Jay-Z & Beyoncé: 2018 On The Run 2 Tour at Lincoln Financial Field in South Philadelphia. For tickets and information log onto ticketmaster.com.
Saturday, August 25th – Smokey Robinson in concert at the Mann Center For The Performing Arts, 52nd Street & Parkside Avenue. For more information log on to manncenter.org
Wednesday & Thursday, September 19th and 20th – Bruno Mars and Cardi B on Thee 24K Magic North American Concert Tour at the Wells Fargo Center. For tickets and information log onto wellsfargocenterphilly.com.
If you would like more info please email me at PattyJackson@iHeartMedia.com or check me out with my midday reports at 10:30am, 12:30pm and 2:30pm during the day.

Patty Jackson: The 4-1-1
Each week Patty Jackson gives us the latest celebrity news and entertainment gossip in The 4-1-1 every Thursday on WDAS
Read more