Quincy Jones Tells All; Dennis Edwards Allegedly Abused; Celebs Uncensored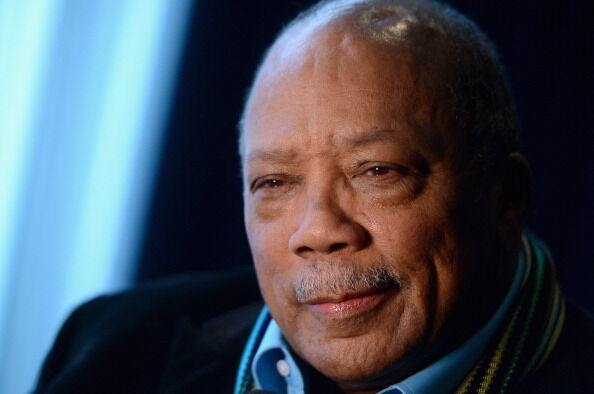 Photo: Quincy Jones, c/o Getty Images
Dennis Edwards of The Temptations has passed at age 74. His 60-year old wife is being accused of abuse, and police are investigating the ex-Temptation's death. Brenda Edwards says she was married to Dennis Edwards for 18 years and she loved him. Brenda was being investigated by authorities in Chicago and was removed from the home with Dennis. Sources say she tortured Dennis by hiding his hearing devices and trying to smother him. Dennis had Meningitis then suffered a heart attack. He leaves behind 1 son, 5 daughters, and numerous grandchildren.
Quincy Jones has 22 girlfriends and in a recent interview with Vulture Magazine he opened up in a way that no one expected. Jones is 84 and turns 85 next month. He is going to be the subject of a Netflix documentary and Oprah Winfrey is hosting a CBS special in his honor. Jones touched on a number of subjects including Michael Jackson. Jones produced "Thriller" and "Off the Wall" and he claims Jackson stole a lot of stuff regarding music. He also said Jackson had a problem with his looks: "his father told him he was ugly and abused him." Jones said The Beatles were the worst musicians in the World. He said rich people aren't doing enough. He wouldn't talk about Bill Cosby. He says if there was one problem he could fix it would be racism. Jones revealed that he dated Ivanka Trump 12 years ago and that her dad was a crazy MF. He said many artists today lack formal musical knowledge. His favorite artists today include Bruno Mars, Ed Sheeran, Chance the Rapper and Kendrick Lamar
The Philadelphia Eagles won their first Super Bowl Championship in franchise history. With a 41-33 win over the New England Patriots, the Eagles are the Underdogs no more. The city of Philadelphia will celebrate the Champs with a Victory Parade Thursday morning. Congratulations to the Eagles on winning their Super Bowl rings and bringing the Lombardi trophy to Philly.
Carson Wentz is newly engaged. The Eagles Quarterback proposed to his girlfriend Maddie, sharing the news on social media with the caption, "She said YES! And now Maddie and I both got us a ring." Congratulations!
Kool & the Gang will be inducted into the Songwriters Hall of Fame. Jermaine Dupri has also been named as one of this year's nominees. The 49th Annual Induction and Awards Dinner will take place in New York City on June 14th.
Omarosa Manigault-Newman made her debut on Celebrity Big Brother and sources say she has a good chance of winning. The former White House Aide has had her share of reality television – Apprentice, Celebrity Apprentice, Fear Factor, and The Surreal Life – and knows how to leave a lasting impression.
2 Dope Queens go from podcast to HBO. Comedians Jessica Williams and Phoebe Robinson took their podcast to a whole new level – a four part standup special on HBO airing Friday nights.
Iyanla Fix My Life returns to OWN for a new season March 3rd.
Don Lemon returned to CNN after the loss of his sister and tearfully thanked his colleagues and bosses. Lemon's sister L'Tanya "Leisa" Lemon Grimes unexpectedly passed away a week ago after falling into a neighbor's pond. Lemon took a brief leave of absence before returning to work Tuesday. The journalist and news anchor not only thanked his colleagues and boyfriend Tim Malone, but also his competitors for being so kind and his sister for "watching from heaven."
Black Panther star Michael B. Jordan still lives at home with his parents. The actor opened up in an interview with Ellen DeGeneres. While Jordan enjoys living at home, he admits it does get awkward with the accidental shirtless – and sometimes naked – run ins. Catch Jordan in theaters in Black Panther February 16th.
Oprah Winfrey is on the cover of March's InStyle magazine, and Winfrey, Writer/Director Ava DuVernay and Actress Storm Reid are all on the cover of the newly black-owned Essence magazine talking about their new movie A Wrinkle in Time. Oprah calls the movie the new Wizard of Oz. A Wrinkle in Time hits theaters March 9th.
Oprah also covers the March women's fashion issue of the Wall Street Journal and says there's no way she'll make a presidential run.
Papa Knowles says Beyonce wouldn't be as successful if she were darker. This statement came as Knowles spoke in an interview about his new book Racism from the Eyes of a Child.
Sports Illustrated has The Philadelphia Eagles on the cover as the Super Bowl Champs. The Eagles have won their very first Super Bowl, but Justin Timberlake is catching backlash for his Prince inspired halftime show. Kevin Hart made Super Bowl headlines, appearing intoxicated on live television and being stopped by security from going on stage during the post game celebration.
Is Mel B being dropped for Queen Latifah on America's Got Talent? Sources report the former Spice Girl has been butting heads with people on set. Reportedly, producers want to get rid of Mel and all her "baggage" and replace her with Queen Latifah by next season. A major glitch is that the Queen is under contract with FOX for the musical drama series Star, which returns with new episodes March 28th.
Lee Daniels' dramas Empire and Star return to FOX Wednesday nights March 28th beginning at 8pm.
WDAS presents our Fourth Annual Women Of Excellence Luncheon Saturday, March 31st. This year's honorees include Broadcast Legend Rev. Louise Williams Bishop, City Councilwoman Cherelle Parker, TV Icon Lisa Thomas Laury, First Lady of Mother Bethel AME Church Leslie Patterson-Tyler, The Philadelphia Tribune's own Shonda McClain and our Special Trailblazing Woman of Excellence honor to Hip Hop Legend and Oscar Nominee Queen Latifah! It all takes place Saturday, March 31st from 11am-4pm at The Sheraton Philadelphia Downtown, 17th and Race. All the details are at wdasfm.com.We also need you to nominate a local women tell us in 105 words or less what makes her special ..nominate her now at Wdasfm.com
How To Get Away With Murder will do a crossover episode with Scandal. Both shows are produced by Shonda Rhimes as part of the blockbuster ABC-TGIT lineup. Scandal, which is in its final season, has welcomed Hillary Clinton, Oprah Winfrey and Kobe Bryant to the set. Bryant, an Oscar nominee for Best Animated Short Film (Dear Basketball) as a producer, will also guest star on How to Get Away With Murder. The Scandal and How To Get Away With Murder crossover event airs Thursday, March 1st beginning at 9pm on ABC after Grey's Anatomy.
Essence magazine released the Essence Music Festival schedule and lineup for 2018. The festivities return to New Orleans July 5th through the 8th. Performers include Janet Jackson, Jilly from Philly Jill Scott, Philly's own The Roots, Snoop Dogg, Erykah Badu, Teddy Riley's New Jack Swing Experience (Wreckx-N-Effect, Blackstreet and Guy), Idris Elba, Fantasia, Miguel and Mary J. Blige with more acts to be announced. All the details are on Essence.com
American Idol – with Lionel Richie, Luke Bryan and Katy Perry in the judges seats and Ryan Seacrest as host – returns to TV on its new network ABC, Sunday March 11th at 8pm.
Marvel Comics' big screen adaption of Black Panther starring Chadwick Boseman hits theaters Friday, February 16th. Speaking of Black Panther, co-star and Oscar Winner Lupita Nyong'o is on the cover of The Hollywood Reporter. Along with Boseman and Nyong'o, Black Panther also co-stars Angela Bassett, Michael B. Jordan, Danai Gurira, Daniel Kaluuya, Forest Whitaker, Phylicia Rashad and Sterling K. Brown, and is directed by Ryan Coogler. Marvel Comics' Black Panther hits the big screen Friday, February 16th, and has already set a new record in advanced tickets sales through Fandango. If you can't wait, check out the trailer on my Patty TV page on WDASFM.com.
Yours Truly is in the latest edition of Philadelphia Magazine. I'm talking about life after stroke. Much progress has been made in terms of my health, but a few goals to go as well. Philadelphia magazine is out now.
The Oscar nominations are out and Get Out made a huge showing. The unlikely box office blockbuster grossed over $250 million at the box office last year. It took nods for Best Picture (Jordan Peele and his producing partners), Actor (Daniel Kaluuya), Screenplay and Directing (both for Peele, his debut in both positions). Also nominated are Denzel Washington (Best Actor) for Roman J. Israel, Esq.; Supporting Actress nods for Mary J. Blige in Mudbound and Octavia Spencer in The Shape of Water. Dee Rees and Virgil Williams are nominated for Best Adapted Screenplay for Mudbound, and Dee is the first African American woman to ever be nominated in that category. NBA Legend Kobe Bryant has been nominated for Best Animated Short Film (Dear Basketball) as a producer. Mary J. Blige is actually up for two Oscars. She shares her second nomination with Raphael Saadiq and Taura Stinson for Best Original Song ("Mighty River" from Mudbound). Common is also nominated again this year and is sharing his nomination with Diane Warren for "Stand Up For Something" taken from the movie Marshall. Jimmy Kimmel hosts the 90th Annual Academy Awards Sunday, March 4th at 8pm on ABC.
UnSung is back. The TV music and Hollywood documentary series will kick off its 12th season after winning the 2018 NAACP Image Award for Outstanding News and Information Program. UnSung returns Sunday, February 19th at 9pm with music group Silk as the season premiere.
Gabrielle Union stars in a mother's day thriller from Will Packer. Union reunites with Producer Will Packer for the thriller Breaking In. Union plays a woman whose father passes and when she brings her two children to his highly secured home, the horror begins. When a group of criminals break into the home, hold the kids hostage and try to extort Union's character, her race against time becomes rescuing her children. Breaking In opens on Mother's Day, May 13th.
Comedienne/Actress Tiffany Haddish signed a two-year first look deal with HBO. Undoubtedly, a comedy special will probably be part of the deal. Haddish also has the TBS show The Last OG with Tracy Morgan coming in April, and the movie Night School coming in September with Kevin Hart.
Uncensored is coming to TVOne in February. The series explores the intimate lives and past experiences of some of today's hottest talent from various media. Tiffany Haddish, Tamar Braxton, Rick Ross, NeNe Leakes and Nia Long are a few of the featured subjects. The biography series Uncensored debuts Sunday, February 18th at 10pm on TVOne.
Taraji P. Henson is currently starring in the action-thriller Proud Mary, which will reunite Color Purple co-stars Danny Glover and Margaret Avery. Soon will be Henson's Tyler Perry-psychological-thriller Acrimony, co-starring Tika Sumpter (The Haves & Have Nots; Ride Along), opening March 30th.
Singer/Songwriter/Actor John Legend is coming to TV as…..Jesus Christ. The Oscar winner will star in NBC's revival of the legendary Broadway smash Jesus Christ Superstar. Legend is no stranger to Broadway works as he won a Tony for producing the revival of August Wilson's Jitney. This project is the latest in the live revivals of movies and plays by network television. Rock Legend Alice Cooper will also be in the cast. Jesus Christ Superstar will air live on NBC Easter Sunday, April 1st.
Larenz Tate (Love Jones; Dead Presidents) and Erica Ash (The Real Husbands Of Hollywood; Survivor's Remorse) will host the 2018 Trumpet Awards, the celebration of African American achievement and history in society, airing this Sunday, February 11th at 9pm on Bounce TV.
Check out who's coming to town:
This Saturday, February 10th – Chris Tucker comedy show at The Sugar House Casino, 1001 Delaware Avenue. For tickets or for more information log onto sugarhousecasino.com
This Sunday, February 11th – The Juice Crew Reunion starring Big Daddy Kane, MC Shan, Marley Marl, Tuff Crew, Kool G. Rap and MC Lyte at The Electric Factory on 7th Street between Willow and Spring Garden. Tickets and more information log onto Ticketmaster.com
February, Friday, the 16th and Saturday, 17th – Mary J. Blige in concert at the Borgata in Atlantic City. Tickets and more information at WWW.THEBORGATA.COM!
Saturday, February 17th – Kem/Fantasia/Avant in concert at The Boardwalk Hall in Atlantic City. For tickets and information log onto ticketmaster.com.
Sunday, February 18th – The Soul Jam starring The Stylistics, The Delfonics, Blue Magic and Bloodstone At The Tropicana in Atlantic City. Tickets and more information log onto Tropicana.net
Saturday, February 24th – Katt Williams in concert at The Boardwalk Hall in Atlantic City. For tickets and information log onto boardwalkhall.com/events.
Friday, March 9th – Keith Sweat in concert at The Liacouras Center, Broad & Montgomery. Tix are on sale now and for more information log onto Liacourascenter.com/events.
Thursday, April 5th – Patti LaBelle in concert at The Academy Of Music, 240 South Broad Street, between Locust and Manning Streets. For tickets and information log onto kimmelcenter.org
Friday, April 13th – The Philly Spring Jam starring Ginuwine, Tank, Brandy, Teddy Riley & Guy and 112 at the Liacouras Center and for more information log onto Liacourascenter.com/events.
Friday, May 11th – The 10th Anniversary Of Platinum Shows' Mother's Day Music Festival begins with the Friday concert starring Singers Joe and Stokley (from Mint Condition) kick things off Friday, May 11th at Caesar's Palace in Atlantic City. For Ticket information log onto ppshows.com.
Saturday, May 12th – The 10th Anniversary Of Platinum Shows' Mother's Day Music Festival with the Saturday concert starring Maxwell, Gladys Knight and Vivian Green at the Boardwalk Hall in Atlantic City. For Ticket information log onto ppshows.com.
Sunday, May 13th – The 10th Anniversary Of Platinum Shows' Mother's Day Music Festival concludes with the Sunday concert starring The Whispers and L.J. Reynolds & The Dramatics at The Tropicana in Atlantic City. For Ticket information log onto ppshows.com.
Saturday, May 26th – The Irresponsible Tour starring Kevin Hart at the Boardwalk Hall in Atlantic City.
If you would like more info please email me at PattyJackson@iHeartMedia.com or check me out with my midday reports at 10:30am, 12:30pm and 2:30pm during the day.

Patty Jackson: The 4-1-1
Each week Patty Jackson gives us the latest celebrity news and entertainment gossip in The 4-1-1 every Thursday on WDAS
Read more