Usher sued for $20 mil! Are Oprah & Tyler DONE?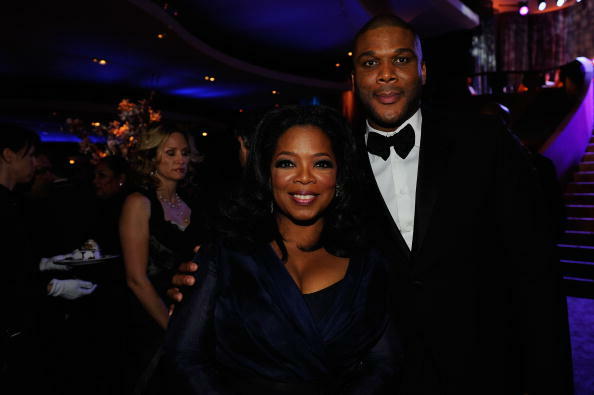 So Oprah And Tyler Perry: could constructive criticism be at the heart of the drama? Perry has signed a multi-million dollar deal Viacom, OWN's competitor, to provide programming. In response, OWN has signed deals with Writer-Producers Mara Brock-Akil, Ava Duvernay and Will Packer. So what happened between Perry and Winfrey? Word of a feud has made the rounds many times, but the animated Christmas project The Star may have been the straw that broke the camel's back. Perry and Winfrey's working together on The Star, specifically Perry's taking constructive criticism from Winfrey, may have done it. Perry is used to almost total creative freedom and the last word on his movies. That's not quite the case at OWN as Winfrey is a network owner and super hands on. Looks like the working relationship is winding down….so how about the friendship?!!!! Hmmmmmmmmmmmmm!
Quincy Jones has nine million reasons to be happy....make that 9.4 million! Jones filed suit against the Michael Jackson estate for $30 million. The Q claimed that he was not properly compensated when he produced Michael Jackson's three most successful albums: Off The Wall 1979, Thriller 1982 and Bad 1987. The Jackson estate attorneys argued that any money awarded to Jones was beyond the contracts, which should have been honored. Jones argument was all the new avenues music is now distributed through (internet, cable, phones) entitle him to the revenue being generated. Jones, 84, also called elder abuse against the Jackson estate as well, but the judge rejected that part of the claim. While he didn't get everything and the Jackson attorney's criticized the verdict, a jury this week awarded Jones $9.4 million in damages. Don't mess with The Q!
Will Smith is coming to Netflix. Smith had a smash hit on the big screen with the comic book adaption of The Suicide Squad. A sequel is underway, but first Smith returns to the sci-fi genre with Bright. Bright will debut on Netflix. The former Fresh Prince Of Bel-Air plays a cop in a world of humans and mystical creatures, including his part creature partner. The two are on regular night patrol when they encounter a darkness that could permanently alter the future. Bright starts streaming on Netflix December 22nd.
Are former Cosby Attorney Monique Pressley and Oscar nominated Filmmaker John Singleton coming to the defense of R Kelly? As of late, Kelly has been accused of keeping a harem of women practically enslaved at two of his homes. Relatives and some friends of some of the women have gone public with their accusations. John Singleton was asked about Kelly on camera. Singleton said Kelly was with grown women and because they all are consenting it's their business and no one else's. Kelly has denied all wrong doing and has now reportedly hired ex-Cosby lawyer and Media Commentator Monique Pressley. Pressley had been Bill Cosby's lawyer and public spokesperson and impressed many as she raised many reasonable doubt points about many of the comedian's current accusers and their claims. Pressley left the Cosby team before his criminal trial began. At press time, Pressley hasn't publicly confirmed her joining R Kelly's legal team yet. The 50-year old Kelly isn't currently charged with any crime. He denied all allegations of wrong doing and vowed to exercise his legal options against the accusations.
Serena Williams is the lone standing woman on Forbes Highest Paid Athletes list. She cleared $27 million last year, and her fortune is estimated $180 million from other sources. Williams also recently posed for legendary Photographer Annie Leibovitz for the layout and cover for Vanity Fair's August edition. Williams goes nude in all her full pregnancy glory for the cover story, "Serena Williams' Love Match." She and fiancé Alexis Ohanian are also captured together and speak of their whirlwind romance after meeting nearly a year and a half ago.
Usher is hit with a new $20 million lawsuit by a woman who says she had sex with the married singer and he gave her herpes. This all began when details of Usher's confidential settlement from years ago got leaked to the media. Another woman sued him and claimed he gave her herpes and didn't warn her he knew he had the incurable sexually transmitted disease. Usher reportedly paid the woman's medical expenses and gave her a $1.1 million settlement. After that was leaked, a second woman came forward with a multi-million dollar suit, but then she upped it to $20 million once she tested positive for herpes. Usher and his legal team are not commenting. Celebrity and Women's Rights Attorney Lisa Bloom took to social media to claim she was being contacted by many other women in regards to Usher. In some states, it is illegal not to disclose to a sexual partner that you have a sexually transmitted disease (STD). Could we be seeing a Tiger Woods-Cosby effect of woman after woman coming forward with claims that Usher let it BURN?
A Bill Cosby accuser is arrested for allegedly bringing heroin to a California jail. 27-year old Chloe Goins was arrested this week on suspicion of trying to smuggle heroin into a San Diego jail. She's currently out on $25,000 bail. Goins filed a suit against Bill Cosby, 80, and Hugh Hefner, 91. Goins attorneys claimed their client says her drink was spiked and she was sexually assaulted at the Playboy Mansion by Cosby when she was near the age of 18 in 2008. She's suing Cosby for the assault. Hefner was added because the suit claims Hefner knew Cosby's behavior pattern and was negligent when he introduced Goins to Cosby that same night. The D.A.'s office isn't pursuing criminal charges against Cosby because of a lack of evidence. Meanwhile, the civil case is still pending. Goins will be arraigned on two felony charges from the drug smuggling arrest on August 1st.
Speaking of Cosby, Tiffany Haddish, currently is blowing up as the reigning Box Office It Girl, says she'd love to work with the legendary comedian. First, Haddish, Queen Latifah, Jada Pinkett Smith and Regina Hall brought in more than $30 million strong for the opening weekend of Girls Trip. Girls Trip is about four ladies' trek to New Orleans for the Essence Festival. Breakout star Haddish was quoted as saying she'd love to work with the embattled and much accused Bill Cosby saying he could play her granddad. Haddish also joked she'd drink the juice and take a nap to close the deal. She is gearing up for her very own Showtime comedy special: Tiffany Haddish: She Ready! airing August 18th.
Iconic Rocky Star Sylvester Stallone is working on a screenplay for the sequel to the blockbuster spinoff movie Creed. Michael B. Jordan joined the franchise along with Writer/Director Ryan Coogler and the result was over $170 million at the box office and an Oscar nomination for Stallone. Now Stallone has been hinting the sequel may bring back Dolph Lundgren as Ivan Drago, the boxer who killed Adonis Creed's dad, Apollo Creed (Carl Weathers), in the ring. As Coogler and Jordan are tied up with promoting their movie Black Panther, production on the Creed sequel is still in the development stages.
We remember Bobby Taylor. The Motown producer/singer/songwriter first came to prominence as the lead singer of his group Bobby Taylor & The Vancouvers. The group also included Comedian/Actor Tommy Chong of the comedy team Cheech & Chong. Taylor's hits included Does Your Mama Know About Me and Melinda. Taylor and Gladys Knight, also signed to Motown at the time, were responsible for discovering The Jackson 5 and getting them signed with Berry Gordy. Taylor produced The Jackson 5 initially including their version of Smokey Robinson's Who's Lovin You, before Gordy took back producing duties himself. Bobby Taylor died of throat cancer at the age of 83.
We also honor the memory of longtime journalist Jim Vance. Vance was an anchor at the NBC affiliate in Washington, DC. He was born in Philadelphia and an alumnus of Cheyney University. He began his professional career as a teacher in Philly, but in 1969 he started his 48-year run at WRC-TV (NBC4). Journalists from all corners took time to talk about Vance's mentoring, journalistic integrity and the trust he built with viewers. From ESPN personalities to Nightly News' Lester Holt all released statements of condolences and thanks to Vance. His portrait is now next to the Obamas at DC's iconic Ben's Chilli Bowl. Jim Vance died after a battle with cancer at the age of 75.
Michelle Obama is back! The former First Lady of The United States is gearing up to finish her much anticipated book, and then she'll be in full press mode. For now, Mrs. Obama is testing the waters. This week, she made a much talked about appearance at The ESPY's to present The Arthur Ashe Courage Award posthumously to Eunice Kennedy Shriver, the founder of The Special Olympics. Up next, First Lady Obama will be in Philly as she is the keynote speaker for The Pennsylvania Conference of Women on Tuesday, October 3rd at the Pennsylvania Convention Center. For tickets and information log onto paconferenceforwomen.org.
The cast of OWN's Queen Sugar (Rutina Wesley, Kofi Soriboe, and Dawn-Lyen Gardner) graces the cover of the July/August edition of Ebony Magazine. The issue will cover how the Oprah Winfrey-Ava DuVernay production is one way of trying to bridge Hollywood's diversity gap.
The projects keep coming for Idris Elba. The latest has him teaming up with Oscar Winner Kate Winslet ("Titanic") for the upcoming "The Mountain Between Us." Elba plays a doctor and Winslet, a journalist. Circumstances have them both taking a private plane that crashes, killing the pilot (Beau Bridges) and leaving the doctor and journalist to battle the elements to get back to civilization. Elba is also on the cover of the August issue of Essence Magazine talking fatherhood and marriage. Meanwhile, Elba makes his big screen directorial debut with "Yardie," the story of a Jamaican gangster caught up in the cold cruel world of the cocaine market from London to Kingston. Elba has cast Actor Aml Ameen (Lee Daniels' "The Butler;" "Harry's Law") in the title role, and the movie is currently filming in Jamaica. Plus, Elba will be back in front of the camera with Matthew McConaughey in "The Dark Tower." Elba plays a gunslinger in a futuristic world who must stop his enemy, played by McConaughey, from destroying a mystical tower. That tower keeps the world from being overrun by uncontrollable evil. Along the way, Elba must mentor a young boy who proves helpful in the quest to preserve the tower. Dark Tower opens in theaters August 4th, and Elba's Essence Magazine cover is on stands now.
My favorite music series "UnSung" is back in full swing. This summer, the TV One documentary show features the life and career stories of The Dramatics (July 30th), Shanice (August 6th) and Ice-T (August 13th). Switch, Wyclef Jean, Jagged Edge and Marvin Sapp were previously featured in this season's previous episodes. "UnSung" airs Sundays at 10pm.
Oprah's Master Class returns to OWN this summer with all new episodes. This summer's lineup features Gladys Knight, Tyler Perry, Usher, LL Cool J, Congressman and Civil Rights Hero John Lewis, Shaquille O'Neal, Emmy Winning Actress Lynn Whitfield (Greenleaf) and WDAS' Morning Man Steve Harvey. OWN will announce the August premiere date for Oprah's Master Class in the coming weeks.
The Essence of Entertainment returns to The Dell Music Center, 33rd & Ridge Avenue, for the summer of 2017. There'll be two movie nights featuring the films "Sing" and "Moana" with big screens and music by DJ Gary O. And, the lineup this summer is incredible. The new season of The Dell Music Center's Essence Of Entertainment 2017 is in full swing:
Friday, July 28th - Black Pearl Chamber Orchestra & Philadanco
Saturday, July 29th- Patty Jackson's Party In The Park starring The O'Jays, The Whispers & Force MD's
August 3rd -Fantasia & Kenny "Babyface" Edmonds
August 10th - Erykah Badu & Ro James
August 17th - Sheila E, Dave Koz & Larry Graham
August 24th - Maze Featuring Frankie Beverly
Check out who's coming to town:
This Saturday, July 29th – Diana Ross' In The Name Of Love Tour at The Mann Center For The Performing Arts, 52nd & Parkside Avenue and for tickets and information log onto manncenter.org.
Tuesday, August 1st – Earth, Wind & Fire and CHIC featuring Nile Rodgers at The Wells Fargo Center. For tickets and information log onto wellsfargocenterphilly.com.
Sunday, August 13th – Kool & The Gang and The Commodores in concert at The Borgata Hotel & Casino in Atlantic City and for tickets and information log onto theborgata.com.
Wednesday, August 16th – The All The Hits Tour Starring Lionel Richie & Special Guest Star Mariah Carey at The Wells Fargo Center. This is the new date from the cancelled March concert. Tickets and information at wellsfargocenterphilly.com.
Friday, August 25th – Smokey Robinson in concert at The Tropicana Hotel & Casino in Atlantic City and for tickets and information log onto Tropicana.net
Saturday, August 26th – Aretha Franklin performing the hits & the great diva classics at The Mann Center For The Performing Arts, 52nd & Parkside Avenue and for tickets and information log onto manncenter.org.
Friday, September 1st - The I Love The 90's Tour: The Party Continues starring Blackstreet, TLC, Montell Jordan, Naughty By Nature, Biz Markie, Snap and C&C Music Factory at The BB&T Pavilion in Camden, NJ.
Saturday & Sunday September 2nd & 3rd – J. Cole and The Chainsmokers will headline Jay-Z and Live Nation's Made In America concert. Solange, Pusha T, 21 Savage, Tiwa Savage, Ari Lennox and DMX are also on the bill. The two day concert festival will take place on the Ben Franklin Parkway Labor Day Weekend. Go to madeinamericafest.com for tickets and information.
Tuesday, October 10th – Bruno Mars in concert at The Wells Fargo Center. For tickets or for more information log onto wellsfargocenterphilly.com.
Friday, November 10th – Janet Jackson at The Boardwalk Hall in Atlantic City. For tickets or for more information log onto boardwalkhall.box-officetickets.com.
Saturday, November 11th – Janet Jackson at The Sands Bethlehem Event Center. For tickets or for more information log onto sandsbethlehememovementseventcenter.ticketoffics.com
Monday, November 13th – Janet Jackson at The Wells Fargo Center. For tickets or for more information log onto wellsfargocenterphilly.com.
Friday, December 1st – Sinbad comedy show at The Keswick Theater in Glenside, Pa. and for more information log onto keswicktheatre.com
If you would like more info please email me at PattyJackson@iHeartMedia.com or check me out with my midday reports at 10:30am, 12:30pm and 2:30pm during the day.

Patty Jackson: The 4-1-1
Each week Patty Jackson gives us the latest celebrity news and entertainment gossip in The 4-1-1 every Thursday on WDAS
Read more