R. Kelly Keeping Women Trapped In Closet; Usher's Literally Letting It Burn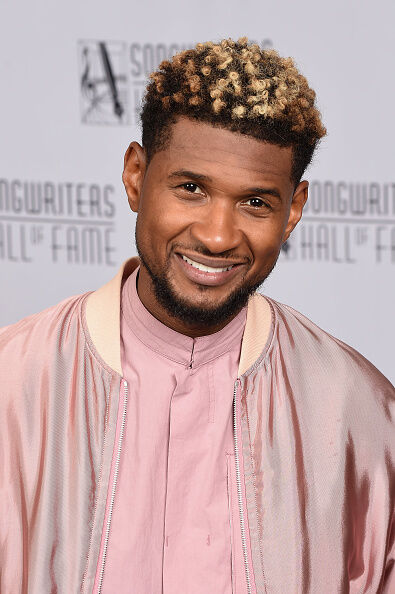 Photo Credit: Getty Images
Is R. Kelly holding a harem of women in his home with almost slave like rules? This week the parents of Jocelyn Savage say their teenage daughter is under R. Kelly's spell, living in deplorable, exploitive conditions and has not communicated with them. The parents held a press conference and brought in another woman who claims she also lived with R. Kelly and has witnessed sexual exploitation of female residents of R. Kelly. Kelly, who was once tried and found not guilty of 14 counts of child pornography, has denied all charges of wrong doing through his attorney. Kelly also says he'll legally show his innocence. Meanwhile, as for Savage, she sent TMZ a video to explain she's not being exploited and only wants to be away from her parents who aren't telling the whole story about their family relationship. Savage also refused to go into details about how she's living, who else she's living with or about R. Kelly. Savage, who is 21-years-old, simply reiterated that she is with Kelly on her own free will. A welfare visit from police to Kelly's home ended with no charges of any wrongdoing as police observed no criminal activity.
Singer/Actor Usher was accused in a lawsuit of giving a woman the incurable sexually transmitted disease herpes….and he settled the case for $1.1 million. Reportedly, court papers show that the "Let It Burn" singer was diagnosed with the disease between 2009 and 2010. Despite the diagnosis, Usher allegedly continued to engage in risky sexual contact. Court papers state the plaintiff was allegedly told by Usher he wasn't a carrier and his greenish discharge was nothing and had been cleared up. The plaintiff was then diagnosed herself with the disease. Before even more could hit the court, Usher settled with the woman, who remains unidentified. There's no report of either Usher's former wife Tameka Foster or current wife Grace Miguel having any involvement in any of this.
First, Mary J. Blige and now Reality Star/Singer/Former Spice Girl Melanie Brown, a.k.a. Mel B, has to pay up to her soon to be ex. When Blige split up with her estranged husband Kendu Isaacs, she had to pay $30,000 a month in spousal support. Now Mel B, who just split with her husband of nearly 10 years, Stephen Belafonte, was told by a judge says she's got to pay Belafonte $40,000 a month. It's temporary spousal support until their divorce can be worked out. But that's how Blige's payout began too. Hmmmmmmmm. Belafonte is also asking the court to force Mel B to turn over her medical records since she accused him of abuse. Belafonte is trying to clear his name and says Mel should have to prove abuse and her medical records should be fair game. Mel B was granted a restraining order after telling a court she fears for her safety and the safety of her three daughters. Five-year old Madison is the youngest and Mel shares her with Belafonte. Mel's court papers say Belafonte was physically abusive. The "America's Got Talent" judge even filed pictures in her court papers showing her with scars and bruises she claims Belafonte caused. Mel says some abuse dates back as far as ten years with incidents after a 2007 "Dancing with the Stars" taping, at the 2012 London Olympics and a jealous rage that came out of a 2012 Australian X-Factor taping that was to involve working with Usher. Mel evens says Belafonte forced her to post pictures of her bruises on social media with a false story of how she got them. Plus, there's the nanny. Mel accuses Belafonte of getting the nanny pregnant then forcing her to get an abortion. Belafonte has denied all the charges and claims he's being set up. That's why he wants the medical records. Meanwhile, Mel B continues to work, including "America's Got Talent," which airs on NBC Tuesdays at 8pm with Host Tyra Banks.
Congratulations to Stevie Wonder who just jumped the broom for the third time. Wonder, 67, has married his girlfriend of five years, 42-year-old Tomeeka Bracy, the mother of two of his seven children, all of whom attended the ceremony. John Legend, Pharrell Williams and Usher all performed for the newlyweds in what's being described as a very romantic wedding. The Motown legend was previously married to fashion designer Kai Millard Morris and to the late singer/songwriter Syreeta Wright. Congrats again to Stevie and Tomeeka!!!
Ryan Seacrest is returning to host the "American Idol" revival. It's official! Seacrest will reprise his role as host. "American Idol" aired on FOX for 15 seasons, but the newly re-vamped show will debut on ABC in 2018. Katy Perry has already signed on as a judge. Live auditions begin this August.
Tyler Perry and Oprah Winfrey fall out? Perry just signed a deal with OWN network's rival Viacom, owners of Paramount Pictures, CBS, MTV and BET, among other media properties. But why is Perry leaving OWN? He and Oprah made a lot of magic together with "The Haves and Have Nots" and "If Loving You Is Wrong," among other projects. Besides the hefty paycheck from Viacom, Perry has an opportunity for a larger audience through Viacom with his projects. Plus, an apparent rumor that he practically saved the OWN network isn't going away. Is that at the heart of this tension between the two good friends? Meanwhile Perry's sequel to "Boo: A Madea Halloween," is due out this October.
Did Kevin Hart just get caught up? Hart has been on a roll and that brings more scrutiny. The native born Philadelphian was spotted outside a Miami Beach hotel. Hart was captured on video allegedly at 5am with a brunette who was not his wife in a parked car for more than 20 minutes. Hart married long time girlfriend Eniko Parrish and the couple are expecting their first child together this year. Looks like Hart is denying the rumors because he took to Instagram to post a meme of himself laughing, while holding a cell phone in his hand. The meme reads: "At The End Of The Day You Just Gotta Laugh At The BS."
Dave Chappelle is hitting New York City's Radio City Music Hall for a performing residence. The comedian, who also signed a lucrative deal with Netflix for specials on their streaming network, will perform 14 shows beginning in August. Chappelle will also have guests including Philly's own The Roots, Ice Cube, Lauryn Hill, Erykah Badu, Lil Wayne and Common, just to name a few.
Is the story of Mariah Carey coming to TV? Yes! The singer-songwriter, who set a record with 18 number one hits on the chart, is joining forces with Starz! Carey will serve as executive producer along with her long time friend filmmaker Brett Ratner and writer Nina Colman of a drama focusing on a 16-year old bi-racial girl who endures hardships in her youth and then rises to become one of music's all-time biggest selling artists. The Starz series will follow the girl through the beginning of her career and first hit. No premiere date or official title has been announced yet.
Janet Jackson is home and her family is so glad. The 50-year-old singer/actress/dancer separated from her husband of three years, 42-year-old Wissam Al Mana, months after welcoming their first child, son Eissa. Apparently, Brother Randy has turned into Mr. Nanny as he's helping out with baby Eissa. Although Wissam has made some overtures to try and reconcile, Janet has come back to Los Angeles to stay put. Meanwhile, Janet's The State of The World tour will resume in September. She dropped more than 50 pounds of baby weight and will be the most career active Jackson when her tour reboots. That will make her siblings even happier. Janet has scheduled stops in Atlantic City (November 10th), Bethlehem, PA (November 11th) and Philly (November 13th).
Michelle Obama is back! The former First Lady of The United States is gearing up to finish her much anticipated book, and then she'll be in full press mode. For now, Mrs. Obama is testing the waters. This week, she made a much talked about appearance at The ESPY's to present The Arthur Ashe Courage Award posthumously to Eunice Kennedy Shriver, the founder of The Special Olympics. Up next, First Lady Obama will be in Philly as she is the keynote speaker for The Pennsylvania Conference of Women on Tuesday, October 3rd at the Pennsylvania Convention Center. For tickets and information log onto paconferenceforwomen.org.
The cast of OWN's Queen Sugar (Rutina Wesley, Kofi Soriboe, and Dawn-Lyen Gardner) graces the cover of the July/August edition of Ebony Magazine. The issue will cover how the Oprah Winfrey-Ava DuVernay production is one way of trying to bridge Hollywood's diversity gap.
The projects keep coming for Idris Elba. The latest has him teaming up with Oscar Winner Kate Winslet ("Titanic") for the upcoming "The Mountain Between Us." Elba plays a doctor and Winslet, a journalist. Circumstances have them both taking a private plane that crashes, killing the pilot (Beau Bridges) and leaving the doctor and journalist to battle the elements to get back to civilization. Elba is also on the cover of the August issue of Essence Magazine talking fatherhood and marriage. Meanwhile, Elba makes his big screen directorial debut with "Yardie," the story of a Jamaican gangster caught up in the cold cruel world of the cocaine market from London to Kingston. Elba has cast Actor Aml Ameen (Lee Daniels' "The Butler;" "Harry's Law") in the title role, and the movie is currently filming in Jamaica. Plus, Elba will be back in front of the camera with Matthew McConaughey in "The Dark Tower." Elba plays a gunslinger in a futuristic world who must stop his enemy, played by McConaughey, from destroying a mystical tower. That tower keeps the world from being overrun by uncontrollable evil. Along the way, Elba must mentor a young boy who proves helpful in the quest to preserve the tower. Dark Tower opens in theaters August 4th, and Elba's Essence Magazine cover is on stands now.
The cast of "Black Panther" is on the cover of Entertainment Weekly. "Black Panther" is the big budget Marvel Comics movie adaption opening February 16th, 2018 and stars Chadwick Boseman, Angela Bassett, Phylicia Rashad, Oscar Winner Forest Whitaker, Sterling K. Brown ("This Is Us"), Oscar Winner Lupita Nyong'o and Michael B. Jordan.
Zendaya is on the cover of the current issue of Vogue Magazine. She's talking about her love life and the twist she wants to put on her Disney stardom. The 20-year-old singer/actress has spent the past seven years on two Disney Channel hits "Shake It Up" and the current "K.C. Undercover." Zendaya's can be seen on the big screen in "Spiderman: Homecoming" with Tom Holland, Donald Glover (Childish Gambino); Bokeem Woodbine ("Jason's Lyric"); Marisa Tomei ("A Different World"), Michael Keaton, Comedian Hannibal Buress and Garcelle Beauvais. "Spiderman: Homecoming" is now playing in theaters and Zendaya's Vogue Magazine issue is available now.
Serena Williams posed for legendary Photographer Annie Leibovitz for the layout and cover for Vanity Fair's August edition. Williams goes nude in all her full pregnancy glory for the cover story, "Serena Williams' Love Match." She and fiancé Alexis Ohanian are also captured together and speak of their whirlwind romance after meeting nearly a year and a half ago.
Missy Elliott graces the cover of Elle magazine for their Women in Music Issue. Elliott talks of her never compromising art-mindset, and never worrying about following trends since she doesn't fit in anyway. Elliott's Elle magazine issue is available now.
The ESPN Body Issue hits stands with the sports world's best stripping down. This year features NBA Star and Boston Celtic Isaiah Thomas, WNBA MVP Nneka Ogwumike and NFL/Dallas Cowboy Ezekiel Elliot. In the same issue, Tennis Champ Serena Williams and multiple NBA Title Holder and Champ Lebron James were voted Best Bodies.
At the movies this week, Queen Latifah, Jada Pinkett Smith, Regina Hall ("Scary Movie;" "Think Like A Man") and Actress/Comedienne Tiffany Haddish ("The Carmichael Show;" "Real Husbands Of Hollywood") star in the ultimate summer buddy picture "Girls Trip." The four ladies leave their daily routines and their problems behind when they trek to New Orleans for the Essence Festival. The route to the festival is filled with more than a few obstacles, but it's all comedy. Malcolm D. Lee ("The Best Man;" "Undercover Brother") is directing and Kenya Barris ("Black-ish;" "Girlfriends;" "Barbershop") and Tracy Oliver ("The Misadventures of Awkward Black Girl") are among the writers. "Girls Trip" the movie opens this Friday. Breakout star Tiffany Haddish is gearing up for her very own Showtime Comedy Special. "Tiffany Haddish: She Ready!" airs August 18th.
My favorite music series "UnSung" is back in full swing. This summer, the TV One documentary show features the life and career stories of Switch (July 23rd), The Dramatics (July 30th), Shanice (August 6th) and Ice-T (August 13th). Wyclef Jean, Jagged Edge and Marvin Sapp were previously featured in the early episodes. "UnSung" airs Sundays at 10pm.
Oprah's Master Class returns to OWN this summer with all new episodes. This summer's lineup features Gladys Knight, Tyler Perry, Usher, LL Cool J, Congressman and Civil Rights Hero John Lewis, Shaquille O'Neal, Emmy Winning Actress Lynn Whitfield (Greenleaf) and WDAS' Morning Man Steve Harvey. OWN will announce the August premiere date for Oprah's Master Class in the coming weeks.
Issa Rae is set to return to HBO when Insecure's second season begins July 23rd.
The 2017 Philly's Sexy Singles have been picked, and yours truly is among them. My girl, Philadelphia Daily News Columnist Jenice Armstrong created Philly's Sexy Singles more than 10 years ago, and has always featured the bachelors and bachelorettes in our area who are at the top of their game. I'll be joining my fellow Sexy Singles at The Daily News Singles Party Wednesday, July 26th at the Union Trust Ballroom, 7th and Chestnut, in Center City. The ticket info is at Philly.com. Check out our week of Philly's Sexy Singles reveals in The Daily News beginning the week of July 23rd.
The Essence of Entertainment returns to The Dell Music Center, 33rd & Ridge Avenue, for the summer of 2017. There'll be two movie nights featuring the films "Sing" and "Moana" with big screens and music by DJ Gary O. And, the lineup this summer is incredible. The new season of The Dell Music Center's Essence Of Entertainment 2017 is in full swing:
July 27th - Monica, Joe & Tank
Friday, July 28th - Black Pearl Chamber Orchestra & Philadanco
Saturday, July 29th- Patty Jackson's Party In The Park starring The O'Jays, The Whispers & Force MD's
August 3rd -Fantasia & Kenny "Babyface" Edmonds
August 10th - Erykah Badu & Ro James
August 17th - Sheila E, Dave Koz & Larry Graham
August 24th - Maze Featuring Frankie Beverly
Check out who's coming to town:
Saturday, July 29th – Diana Ross' In The Name Of Love Tour at The Mann Center For The Performing Arts, 52nd & Parkside Avenue and for tickets and information log onto manncenter.org.
Tuesday, August 1st – Earth, Wind & Fire and CHIC featuring Nile Rodgers at The Wells Fargo Center. For tickets and information log onto wellsfargocenterphilly.com.
Sunday, August 13th – Kool & The Gang and The Commodores in concert at The Borgata Hotel & Casino in Atlantic City and for tickets and information log onto theborgata.com.
Wednesday, August 16th – The All The Hits Tour Starring Lionel Richie & Special Guest Star Mariah Carey at The Wells Fargo Center. This is the new date from the cancelled March concert. Tickets and information at wellsfargocenterphilly.com.
Friday, August 25th – Smokey Robinson in concert at The Tropicana Hotel & Casino in Atlantic City and for tickets and information log onto Tropicana.net
Saturday, August 26th – Aretha Franklin performing the hits & the great diva classics at The Mann Center For The Performing Arts, 52nd & Parkside Avenue and for tickets and information log onto manncenter.org.
Friday, September 1st - The I Love The 90's Tour: The Party Continues starring Blackstreet, TLC, Montell Jordan, Naughty By Nature, Biz Markie, Snap and C&C Music Factory at The BB&T Pavilion in Camden, NJ.
Saturday & Sunday September 2nd & 3rd – J. Cole and The Chainsmokers will headline Jay-Z and Live Nation's Made In America concert. Solange, Pusha T, 21 Savage, Tiwa Savage, Ari Lennox and DMX are also on the bill. The two day concert festival will take place on the Ben Franklin Parkway Labor Day Weekend. Go to madeinamericafest.com for tickets and information.
Tuesday, October 10th – Bruno Mars in concert at The Wells Fargo Center. For tickets or for more information log onto wellsfargocenterphilly.com.
Friday, November 10th – Janet Jackson at The Boardwalk Hall in Atlantic City. For tickets or for more information log onto boardwalkhall.box-officetickets.com.
Saturday, November 11th – Janet Jackson at The Sands Bethlehem Event Center. For tickets or for more information log onto sandsbethlehememovementseventcenter.ticketoffics.com
Monday, November 13th – Janet Jackson at The Wells Fargo Center. For tickets or for more information log onto wellsfargocenterphilly.com.
Friday, December 1st – Sinbad comedy show at The Keswick Theater in Glenside, Pa. and for more information log onto keswicktheatre.com
If you would like more info please email me at PattyJackson@iHeartMedia.com or check me out with my midday reports at 10:30am, 12:30pm and 2:30pm during the day.

Patty Jackson: The 4-1-1
Each week Patty Jackson gives us the latest celebrity news and entertainment gossip in The 4-1-1 every Thursday on WDAS
Read more