Idris Elba Jesse Williams Brandy all through w/ it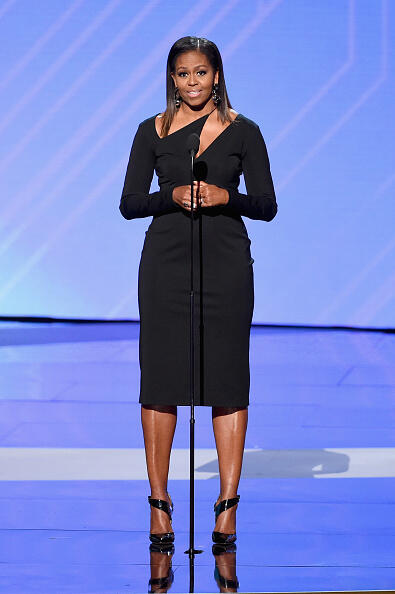 Quincy Jones and Paul McCartney are taking care of business. First, there's Jones. He's currently suing the Michael Jackson estate. The "Q" maintains he hasn't been properly compensated for The King Of Pop's three best-selling albums, Off The Wall, Thriller and Bad, all produced by Jones. Jones also maintains the use of the recordings in the film, This Is It, didn't provide him with proper compensation. Jones, 84, is suing for $30 million. Meanwhile, The Michael Jackson estate sold their ATV Publishing to their partner Sony Music in full. It includes the Beatles catalog, and Sir Paul McCartney served notice to Sony Music. A 1976 law states certain rights revert back to the songwriters, and because the late John Lennon and Paul McCartney wrote the vast majority of those songs, the money potential is endless. However, before it could be heard in court, McCartney and Sony agreed to dismiss in favor of a settlement. The details are sealed, but both sides announced their satisfaction with their new agreement.
The Emmy nominations have been released. Sterling K. Brown and Ron Cephas Jones from the breakout NBC drama This Is Us, Jeffrey Wright and Thandie Newton of the HBO freshman series Westworld are among the standouts. Previous Best Drama Actress Viola Davis is nominated again along with Leslie Jones of Saturday Night Live, Uzo Aduba of Orange Is The New Black and both Anthony Anderson and Tracee Ellis Ross of Black-ish. Special shout out to Donald Glover, a.k.a. Childish Gambino, who has four nominations for F/X's Atlanta in the categories of Best Actor, Writing, Directing and Best Comedy Series. Congratulations to all the nominees and The 69th Annual Emmys Awards hosted by Stephen Colbert air Sunday September 17th at 8pm on CBS.
Michelle Obama is back. The former First Lady Of The United States is gearing up to finish her much anticipated book, and then she'll be in full press mode. For now, Mrs. Obama is testing the waters. This week, she made a much talked about appearance at The ESPY's to present The Arthur Ashe Courage Award posthumously to Eunice Kennedy Shriver, the founder of The Special Olympics. Up next, First Lady Obama will be in Philly as she is the keynote speaker for The Pennsylvania Conference Of Women on Tuesday, October 3rd at the Pennsylvania Convention Center. For tickets and information log onto paconferenceforwomen.org
People's Choice nominated Actor Jesse Williams is locked in a divorce and custody battle with his estranged wife, Aryn Drake-Lee. Things took an ugly turn when Williams' lawyer filed a motion stating Drake-Lee was not being cooperative in allowing him to see the children and therefore needs court intervention. Now the popular actor and activist has been seen on a date night to the movies with his alleged new boo, brunette Actress Minka Kelly. She has been called the other woman by the press. Williams took to social media, but not with a BET type speech this time. Williams called out the "M*****F***ers who think he threw his family away in the trash because the girl he works with is cute! Ouch! The saga continues.
We had a blast last week when Philadelphia declared July 6th as Kevin Hart Day. The comedian/actor, a.k.a. "My Nephew", came back to the North Philly where his likeness went up as a mural on Germantown Avenue in front of one of his childhood hangouts, Max's Cheesesteaks. We had a great time and you can see the video on my Patty TV page on WDASFM.com. Meanwhile, Hart's latest book is called I Can't Make This Up: Life Lessons and it's available now.
We remember Fresh Kid Ice, long time member of the controversial groundbreaking hip hop collective 2 Live Crew. Born Christopher Wong Won, Fresh Kid Ice opened the door for Asian Americans in rap. 30 years ago, Fresh Kid Ice joined forces with Uncle Luke (Luther Campbell), Amazing Vee, Brother Marquis and DJ Mr. Mixx and were labeled obscene and seized upon by government from local to federal. 2 Live Crew battled and took it all the way up to the Supreme Court fighting for their right of expression and freedom of speech and won. Then 2 Live Crew rode their music to platinum sales and number one chart positions with Me So Horny and Banned In The U.S.A. Now a movie, The Book Of Luke, based on Luther Campbell's memoir of the same name chronicling the group's trials and tribulations is being developed. Fresh Kid Ice battled health issues recently, but his agent wouldn't go into detail. Uncle Luke said in his statement People We've Lost A Legend. Christopher Wong Won, a.k.a. Fresh Kid Ice, was 53 years old.
Singer Brandy has broken up with her boyfriend Sir The Baptist. Sir is a singer/rapper and son of a preacher. His common theme in his music is to have it be a spiritual connection though it's not necessarily gospel. Sir and Brandy had been seeing each other for a while on the low. Brandy had taken to social media lately to show some of the couple's romantic getaways. Then came this year's Essence Festival. Word broke that Sir The Baptist was creeping with not one, not two but three different women, which he later denied on social media. When one of the women showed up at the party Brandy threw for Sir, Brandy shut it down. Did I mention the partygoer is reportedly Sir's babymama of two? Brandy isn't confirming the breakup. She only took to social media this time to warn people not to lose themselves.
Philly's own Bill Cosby turned 80 years old this week, but it's within a week he got two of his trial dates locked down. First, the groundbreaking but now much accused entertainer took to social media to thank friends Keshia Knight Pulliam, Comedians Lewis Dix, Eddie Griffin and Faizon Love, the Brothers of Omega Psi Phi Fraternity and his family: wife Camille, their four daughters and their late son. Cosby will be back in court Monday November 6th in Montgomery County to begin his retrial on charges of aggravated, indecent assault allegedly on former Temple University Employee Andrea Constand. The first trial ended with a deadlocked jury. Cosby's civil suits are delayed for the criminal trial. One, in which he's accused of molesting a then 15-year old Judy Huth at the Playboy Mansion in1974, has a trial date set for July 2018. Cosby has denied all wrong doing.
Venus Williams is letting her tennis do all her talking for her on the court, and may also let the videotape do her talking in civil court as well. The 37-year old tennis legend was involved in an automobile accident with Jerome and Linda Barson. Jerome Barson died of the injuries he sustained some weeks later, and the Barson family is now suing Williams. The police initially faulted Williams and released limited information to the press on the accident. But, soon after a video of the incident went viral showing a third car involved and possibly the real cause. Williams, who broken down at her Wimbledon press conference when asked about the accident, gave no details. Meantime, she's been able to pull it together and to advance at the London competition. Williams could take another crown. Go Venus!
The cast of OWN's Queen Sugar (Rutina Wesley, Kofi Soriboe, and Dawn-Lyen Gardner) graces the cover of July/August edition of Ebony magazine. The issue will cover how the Oprah Winfrey-Ava DuVernay production is one way of trying to bridge Hollywood's diversity gap.
Did Idris Elba take a page from Dionne Warwick's book to Never Fall In Love Again? Not quite, but the British born actor does say he'll never get married again. Elba is on the cover of the August issue of Essence magazine including his shirtless photoshoot (that's for me SMILE). The issue is on newsstands this Friday. The 44-year old father of two says after trying it twice, marriage is for everyone. Meanwhile, Elba make his big screen directorial debut with Yardie, the story of a Jamaican gangster caught up in the cold cruel world of the cocaine market from London to Kingston. Elba has cast Actor Aml Ameen (Lee Daniels' The Butler; Harry's Law) in the title role, and the movie is currently filming in Jamaica. Plus, Elba will be back in front of the camera with Matthew McConaughey in Dark Tower. Elba plays a gunslinger in a futuristic world who must stop his enemy, played by McConaughey, from destroying a mystical tower. That tower keeps the world from being overrun by uncontrollable evil. Along the way, Elba must mentor a young boy who proves helpful in the quest to preserve the tower. Dark Tower opens in theaters August 4th, and Elba's Essence magazine cover feature hits newsstands Friday, July 14th.
WDAS Alum/Journalist Tamron Hall is back! Hall left her long time stint at NBC News after the network unceremoniously dumped the 9am hour of The Today show in favor of newly signed Megyn Kelly. Now, Hall is developing her own show. Hall has teamed with the Weinstein Company with a daytime talk program effort focusing on current events, human interest stories and in-depth celebrity interviews. There's no debut date announced yet, but Hall could very well go head to head with Megyn Kelly and that new third hour of Today. Go Tam!!!!!!!!
The cast of Black Panther is on the cover of Entertainment Weekly. Black Panther is the big budget Marvel Comics movie adaption opening February 16th, 2018 and stars Chadwick Boseman, Angela Bassett, Phylicia Rashad, Oscar Winner Forest Whitaker, Sterling K. Brown (This Is Us), Oscar Winner Lupita Nyong'o and Michael B. Jordan.
Zendaya is on the cover of the current issue of Vogue. She's talking about her love life and the twist she wants to put on her Disney stardom. The 20-year old singer/actress has spent the past seven years on two Disney Channel hits Shake It Up and the current K.C. Undercover. Zendaya's gearing up for Spiderman: Homecoming with Tom Holland, Donald Glover (Childish Gambino); Bokeem Woodbine (Jason's Lyric); Marisa Tomei (A Different World), Michael Keaton, Comedian Hannibal Buress and Garcelle Beauvais. Spiderman: Homecoming opens in theaters Friday, July 7th, and Zendaya's Vogue magazine issue is available now.
Serena Williams posed for legendary Photographer Annie Leibovitz for the layout and cover for Vanity Fair's August edition. Williams goes nude in all her full pregnancy glory for the cover story Serena Williams' Love Match. She and fiancé Alexis Ohanian are also captured together and speak of their whirlwind romance after meeting nearly a year and a half ago.
Missy Elliott graces the cover of Elle magazine for their Women In Music Issue. Elliott talks of her never compromise art-mindset, and never worrying about following trends since she doesn't fit in anyway. Elliott's Elle magazine issue is available now.
The ESPN Body Issue hits stands with the sports world's best stripping down. This year features NBA Star and Boston Celtic Isaiah Thomas WNBA MVP Nneka Ogwumike and NFL/Dallas Cowboy Ezekiel Elliot. In the same issue, Tennis Champ Serena Williams and multiple NBA Title Holder and Champ Lebron James were voted Best Bodies.
Set It Off Co-stars Queen Latifah and Jada Pinkett Smith reunite and are joined by Regina Hall (Scary Movie; Think Like A Man) and Actress/Comedienne Tiffany Haddish (The Carmichael Show; Real Husbands Of Hollywood) in the ultimate summer buddy picture Girls Trip. The four ladies leave their daily routines and their problems behind when they trek to New Orleans for the Essence Festival. The route to the festival is filled more than a few obstacles, but it's all comedy. Malcolm D. Lee (The Best Man; Undercover Brother) is directing and Kenya Barris (Black-ish; Girlfriends; Barbershop) and Tracy Oliver (The Misadventures of Awkward Black Girl) are among the writers. Girls Trip the movie opens Friday, July 21st.
My favorite music series UnSung is back. This summer, the TV One documentary show features the life and career stories of Marvin Sapp (July 16th), Switch (July 23rd), The Dramatics (July 30th), Shanice (August 6th) and Ice-T (August 13th). UnSung airs Sundays at 10pm, but will begin Sunday, July 9th with a special two-part season premiere starting at 9pm with Wyclef Jean followed at 10pm by Jagged Edge on TV One.
Oprah's Master Class returns to OWN this summer with all new episodes. This summer's lineup features Gladys Knight, Tyler Perry, Usher, LL Cool J, Congressman and Civil Rights Hero John Lewis, Shaquille O'Neal, Emmy Winning Actress Lynn Whitfield (Greenleaf) and WDAS Morning Man Steve Harvey. OWN will announce the August premiere date for Oprah's Master Class in the coming weeks.
Issa Rae is set to return to HBO when Insecure's second season begins July 23rd.
The 2017 Philly's Sexy Singles have been picked, and yours truly is among them. My girl, Philadelphia Daily News Columnist Jenice Armstrong created Philly's Sexy Singles more than 10 years ago, and has always featured the bachelors and bachelorettes in our area who are at the top of their game. I'll be joining my fellow Sexy Singles at The Daily News Singles Party Wednesday, July 26th at the Union Trust Ballroom, 7th and Chestnut, in Center City. The ticket info is at Philly.com. Check out our week of Philly's Sexy Singles reveals in The Daily News beginning the week of July 23rd.
The Essence Of Entertainment returns to The Dell Music Center, 33rd & Ridge Avenue, for the summer of 2017. There'll be two movie nights featuring the films Sing and Moana with big screens and music by DJ Gary O. And, the lineup this summer is incredible. The new season of The Dell Music Center's Essence Of Entertainment 2017 is in full swing:
July 20th - KEM, Keke Wyatt & Lalah Hathaway
July 27th - Monica, Joe & Tank
Friday, July 28th - Black Pearl Chamber Orchestra & Philadanco
Saturday, July 29th- Patty Jackson's Party In The Park starring The O'Jays, The Whispers & Force MD's
August 3rd -Fantasia & Kenny "Babyface" Edmonds
August 10th - Erykah Badu & Ro James
August 17th - Sheila E, Dave Koz & Larry Graham
August 24th - Maze Featuring Frankie Beverly
Check out who's coming to town:
This Sunday, July 16th – Jill Scott in concert at The Borgata Hotel & Casino in Atlantic City and for tickets and information log onto theborgata.com.
Saturday, July 29th – Diana Ross' In The Name Of Love Tour at The Mann Center For The Performing Arts, 52nd & Parkside Avenue and for tickets and information log onto manncenter.org.
Tuesday, August 1st – Earth, Wind & Fire and CHIC featuring Nile Rodgers at The Wells Fargo Center. For tickets and information log onto wellsfargocenterphilly.com.
Sunday, August 13th – Kool & The Gang and The Commodores in concert at The Borgata Hotel & Casino in Atlantic City and for tickets and information log onto theborgata.com.
Wednesday, August 16th – The All The Hits Tour Starring Lionel Richie & Special Guest Star Mariah Carey at The Wells Fargo Center. This is the new date from the cancelled March concert. Tickets and information at wellsfargocenterphilly.com.
Friday, August 25th – Smokey Robinson in concert at The Tropicana Hotel & Casino in Atlantic City and for tickets and information log onto Tropicana.net
Saturday, August 26th – Aretha Franklin performing the hits & the great diva classics at The Mann Center For The Performing Arts, 52nd & Parkside Avenue and for tickets and information log onto manncenter.org.
Friday, September 1st - The I Love The 90's Tour: The Party Continues starring Blackstreet, TLC, Montell Jordan, Naughty By Nature, Biz Markie, Snap and C&C Music Factory at The BB&T Pavilion in Camden, NJ.
Saturday & Sunday September 2nd & 3rd – J. Cole and The Chainsmokers will headline Jay-Z and Live Nation's Made In America concert. Solange, Pusha T, 21 Savage, Tiwa Savage, Ari Lennox and DMX are also on the bill. The two day concert festival will take place on the Ben Franklin Parkway Labor Day Weekend. Go to madeinamericafest.com for tickets and information.
Tuesday, October 10th – Bruno Mars in concert at The Wells Fargo Center. For tickets or for more information log onto wellsfargocenterphilly.com.
Friday, November 10th – Janet Jackson at The Boardwalk Hall in Atlantic City. For tickets or for more information log onto boardwalkhall.box-officetickets.com.
Saturday, November 11th – Janet Jackson at The Sands Bethlehem Event Center. For tickets or for more information log onto sandsbethlehememovementseventcenter.ticketoffics.com
Monday, November 13th – Janet Jackson at The Wells Fargo Center. For tickets or for more information log onto wellsfargocenterphilly.com.
Friday, December 1st – Sinbad comedy show at The Keswick Theater in Glenside, Pa. and for more information log onto keswicktheatre.com
If you would like more info please email me at pattyj1053@aol.com or Pattyjackson@clearchannel.comor check me out with my midday reports at 10:35am, 12:35pm and 2:35pm during the day.

Patty Jackson: The 4-1-1
Each week Patty Jackson gives us the latest celebrity news and entertainment gossip in The 4-1-1 every Thursday on WDAS
Read more