T.I. & Tiny; Jay-Z & Reverend Al; A New Housewife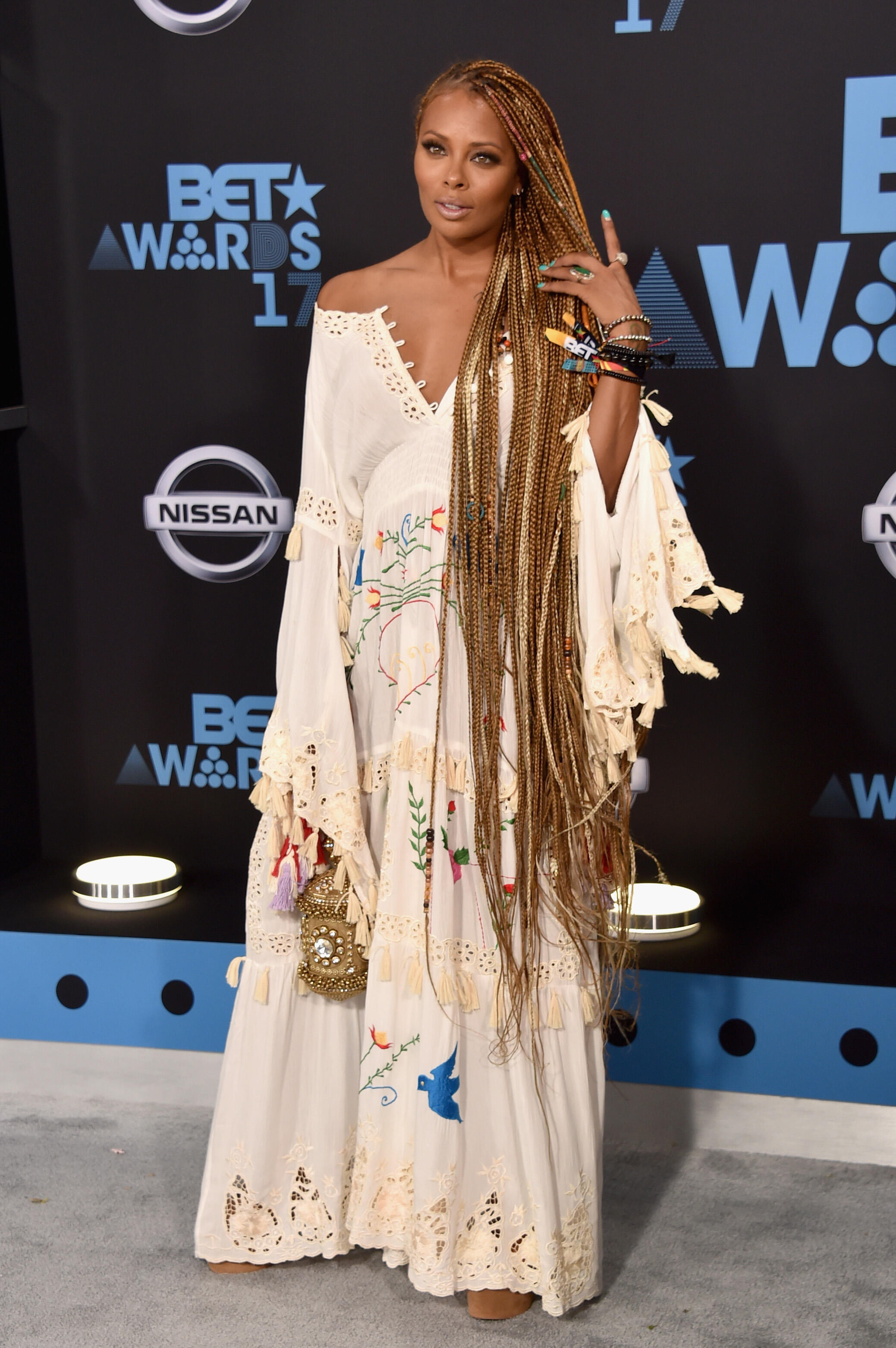 Tiny & T.I…….together or no: recently Tiny, a.k.a. Tameka Cottle, rejoined her former group Xscape and they started touring. At a holiday concert appearance in Detroit, the Xscape members pulled out of the audience their significant others and serenaded them, a' la Destiny's Child at The BET Awards. What's so strange is Tiny pulled up T.I, whom she filed for divorce from last December. Are the two getting back together? T.I. and Tiny's family was considered reality TV show gold when they were on VH1 with The Family Hustle. The divorce is dragging on because after all there are children and two careers/monies to deal with….. or maybe something else? Are the two trying to reconcile?
Could Supermodel Eva Marcille be putting her foot back into the TV reality show world with Real Housewives Of Atlanta? The former 2004 America's Next Top Model winner has been spotted in Atlanta filming with her friend NeNe Leakes. That just might be a good fit. Eva comes with her own very loyal audience.
Reverend Al Sharpton takes things in stride….even hip hop! Sharpton recently found himself part of the new Jay-Z album 4:44. There's a song called Family Feud that takes aim at both Sharpton and Bill Cosby. The Sharpton lyric is in reference to his recently sending out profile pics of his weight loss from his home. That started quite a buzz on social media. Sharpton says he's both flattered and inspired to know he's part of the hip hop lexicon of 2017. No word from Cosby, but the lyrics on the legendary comedian are little harsher in reference to his sex abuse and drugging charges and accusations. Jay-Z also appears to answer wife Beyonce's Lemonade song by rapping sending away Becky With The Good Hair. Jay-Z's new album 4:44 is available now.
Here comes the Russell Simmons story! The founder of Def Jam Records and hip hop's legendary Entrepreneur Russell Simmons is having FOX TV develop a show around his life experiences in route to becoming one of music's most all-time impactful influences ever. Kenya Barris, the co-creator/ executive producer/show runner for Black-ish, is writing the script. As of press time, no air date or details about casting from FOX or Simmons and Barris, but the show's current working title is Life And Def: Sex, Drugs Money And God. Move over Power!
Speaking of Power, Omari Hardwick (Power), Tessa Thompson (Dear White People) and Terry Crews (Brooklyn Nine-Nine) will team up for the feature film Sorry To Bother You. A telemarketer discovers both the key to great success but also the tragic trappings that surround it. Sorry To Bother You is slated to hit theaters in 2018.
The Tupac Shakur bio movie All Eyez On Me has grossed over $42 million at the box office, but now the late rapper's romance with The Material Girl is taking center stage. An alleged prison letter has surfaced from the controversial rapper, who was shot to death in 1996 at the age of 25, addressed to Singer/Actress Madonna. These letters are apparently from 1995 when Shakur was serving a sexual abuse sentence. He apologized to Madonna for not being the friend he could have been. Shakur also noted how their interracial relationship would be a positive look for her but would seem like a betrayal to half his audience. He also asked if she'd visit him in prison, and offers his friendship again to her. Madonna, 13 years Shakur's senior, hasn't commented on the accuracy of the letters as of press time. Madonna did post up a picture with Shakur on her social media on what would have been Shakur's 46th birthday this past June. All Eyez On Me is now playing in theaters.
Venus Williams is competing Wimbledon this week, but she may soon be in a court room after that. A few weeks ago, Williams was in an automobile accident with Jerome and Linda Barson. Jerome Barson died of the injuries he sustained some weeks later, and the Barson family is now suing Williams. The announcement came shortly after the police, who faulted Williams, released information to the press on the accident. Williams actually broke down at a Wimbledon press conference. She was barely able to give her condolences to the Barson family and say there were no words to express how devastating the situation is. Williams then walked out of her press conference in tears, but returned later to finish it. Williams happens to be Wimbledon's oldest female player this year.
R Kelly has paid up….for now. The U Remind Me Of a Jeep singer coughed up over $730,000 to get rid of a federal lien from unpaid taxes in 2013. The problems aren't done yet as Kelly, 50, still owes against a number of other liens.
Serena Williams posed for legendary Photographer Annie Leibovitz for the layout and cover for Vanity Fair's August edition. Williams goes nude in all her full pregnancy glory for the cover story Serena Williams' Love Match. She and fiancé Alexis Ohanian are also captured together and speak of their whirlwind romance after meeting nearly a year and a half ago.
The June issue of Ebony magazine features Chance The Rapper on the cover. It's the Black Music Month issue.
Zendaya is on the cover of the current issue of Vogue. She's talking about her love life and the twist she wants to put on her Disney stardom. The 20-year old singer/actress has spent the past seven years on two Disney Channel hits Shake It Up and the current K.C. Undercover. Zendaya's gearing up for Spiderman: Homecoming with Tom Holland, Donald Glover (Childish Gambino); Bokeem Woodbine (Jason's Lyric); Marisa Tomei (A Different World), Michael Keaton, Comedian Hannibal Buress and Garcelle Beauvais. Spiderman: Homecoming opens in theaters Friday, July 7th, and Zendaya's Vogue magazine issue is available now.
Missy Elliott graces the cover of Elle magazine for their Women In Music Issue. Elliott talks of her never compromise art-mindset, and never worrying about following trends since she doesn't fit in anyway. Elliott's Elle magazine issue is available now.
The ESPN Body Issue hits stands with the sports world's best stripping down. This year features NBA Star and Boston Celtic Isaiah Thomas WNBA MVP Nneka Ogwumike and NFL/Dallas Cowboy Ezekiel Elliot. In the same issue, Tennis Champ Serena Williams and multiple NBA Title Holder and Champ Lebron James were voted Best Bodies.
Set It Off Co-stars Queen Latifah and Jada Pinkett Smith reunite and are joined by Regina Hall (Scary Movie; Think Like A Man) and Actress/Comedienne Tiffany Haddish (The Carmichael Show; Real Husbands Of Hollywood) are Essence magazine's July covergirls and star in the ultimate summer buddy picture Girls Trip. The four ladies leave their daily routines and their problems behind when they trek to New Orleans for the Essence Festival. The route to the festival is filled more than a few obstacles, but it's all comedy. Malcolm D. Lee (The Best Man; Undercover Brother) is directing and Kenya Barris (Black-ish; Girlfriends; Barbershop) and Tracy Oliver (The Misadventures of Awkward Black Girl) are among the writers. The July/Girls Trip Essence magazine cover hits newsstands this weekend, and Girls Trip the movie opens Friday, July 21st.
My favorite music series UnSung is back. This summer, the TV One documentary show features the life and career stories of Marvin Sapp (July 16th), Switch (July 23rd), The Dramatics (July 30th), Shanice (August 6th) and Ice-T (August 13th). UnSung airs Sundays at 10pm, but will begin Sunday, July 9th with a special two-part season premiere starting at 9pm with Wyclef Jean followed at 10pm by Jagged Edge on TV One.
Oprah's Master Class returns to OWN this summer with all new episodes. This summer's lineup features Gladys Knight, Tyler Perry, Usher, LL Cool J, Congressman and Civil Rights Hero John Lewis, Shaquille O'Neal, Emmy Winning Actress Lynn Whitfield (Greenleaf) and WDAS Morning Man Steve Harvey. OWN will announce the August premiere date for Oprah's Master Class in the coming weeks.
Issa Rae is set to return to HBO when Insecure's second season begins July 23rd.
Idris Elba will make his big screen feature film debut…..as a director. Elba will helm Yardie, the story of a Jamaican gangster caught up in the cold cruel world of the cocaine market from London to Kingston. Elba has cast Actor Aml Ameen (Lee Daniels' The Butler; Harry's Law) in the title role, and the movie is currently filming in Jamaica. Meanwhile, Elba will be back in front of the camera with Matthew McConaughey in Dark Tower. Elba plays a gunslinger in a futuristic world who must stop his enemy, played by McConaughey, from destroying a mystical tower. That tower keeps the world from being overrun by uncontrollable evil. Along the way, Elba must mentor a young boy who proves helpful in the quest to preserve the tower. Dark Tower opens in theaters August 4th.
The 2017 Philly's Sexy Singles have been picked, and yours truly is among them. My girl, Philadelphia Daily News Columnist Jenice Armstrong created Philly's Sexy Singles more than 10 years ago, and has always featured the bachelors and bachelorettes in our area who are at the top of their game. I'll be joining my fellow Sexy Singles at The Daily News Singles Party Wednesday, July 26th at the Union Trust Ballroom, 7th and Chestnut, in Center City. The ticket info is at Philly.com. Check out our week of Philly's Sexy Singles reveals in The Daily News beginning the week of July 23rd.
The Essence Of Entertainment returns to The Dell Music Center, 33rd & Ridge Avenue, for the summer of 2017. There'll be two movie nights featuring the films Sing and Moana with big screens and music by DJ Gary O. And, the lineup this summer is incredible. The new season of The Dell Music Center's Essence Of Entertainment 2017 is in full swing. This Thursday, July 13th, staring at 7pm, it's The Dramatics Featuring LJ Reynolds, Harold Melvin's Blue Notes, Intruders & Bloodstone followed by:
July 20th - KEM, Keke Wyatt & Lalah Hathaway
July 27th - Monica, Joe & Tank
Friday, July 28th - Black Pearl Chamber Orchestra & Philadanco
Saturday, July 29th- Patty Jackson's Party In The Park starring The O'Jays, The Whispers & Force MD's
August 3rd -Fantasia & Kenny "Babyface" Edmonds
August 10th - Erykah Badu & Ro James
August 17th - Sheila E, Dave Koz & Larry Graham
August 24th - Maze Featuring Frankie Beverly
Check out who's coming to town:
This Saturday, July 8th – Charlie Wilson & Chante Moore at The Mann Center For The Performing Arts, 52nd & Parkside Avenue and for tickets and information log onto manncenter.org.
Sunday, July 16th – Jill Scott in concert at The Borgata Hotel & Casino in Atlantic City and for tickets and information log onto theborgata.com.
Saturday, July 29th – Diana Ross' In The Name Of Love Tour at The Mann Center For The Performing Arts, 52nd & Parkside Avenue and for tickets and information log onto manncenter.org.
Tuesday, August 1st – Earth, Wind & Fire and CHIC featuring Nile Rodgers at The Wells Fargo Center. For tickets and information log onto wellsfargocenterphilly.com.
Sunday, August 13th – Kool & The Gang and The Commodores in concert at The Borgata Hotel & Casino in Atlantic City and for tickets and information log onto theborgata.com.
Wednesday, August 16th – The All The Hits Tour Starring Lionel Richie & Special Guest Star Mariah Carey at The Wells Fargo Center. This is the new date from the cancelled March concert. Tickets and information at wellsfargocenterphilly.com.
Friday, August 25th – Smokey Robinson in concert at The Tropicana Hotel & Casino in Atlantic City and for tickets and information log onto Tropicana.net
Saturday, August 26th – Aretha Franklin performing the hits & the great diva classics at The Mann Center For The Performing Arts, 52nd & Parkside Avenue and for tickets and information log onto manncenter.org.
Friday, September 1st - The I Love The 90's Tour: The Party Continues starring Blackstreet, TLC, Montell Jordan, Naughty By Nature, Biz Markie, Snap and C&C Music Factory at The BB&T Pavilion in Camden, NJ.
Saturday & Sunday September 2nd & 3rd – J. Cole and The Chainsmokers will headline Jay-Z and Live Nation's Made In America concert. Solange, Pusha T, 21 Savage, Tiwa Savage, Ari Lennox and DMX are also on the bill. The two day concert festival will take place on the Ben Franklin Parkway Labor Day Weekend. Go to madeinamericafest.com for tickets and information.
Tuesday, October 10th – Bruno Mars in concert at The Wells Fargo Center. For tickets or for more information log onto wellsfargocenterphilly.com.
Friday, November 10th – Janet Jackson at The Boardwalk Hall in Atlantic City. For tickets or for more information log onto boardwalkhall.box-officetickets.com.
Saturday, November 11th – Janet Jackson at The Sands Bethlehem Event Center. For tickets or for more information log onto sandsbethlehememovementseventcenter.ticketoffics.com
Monday, November 13th – Janet Jackson at The Wells Fargo Center. For tickets or for more information log onto wellsfargocenterphilly.com.
Friday, December 1st – Sinbad comedy show at The Keswick Theater in Glenside, Pa. and for more information log onto keswicktheatre.com
If you would like more info please email me at pattyj1053@aol.com or Pattyjackson@clearchannel.comor check me out with my midday reports at 10:35am, 12:35pm and 2:35pm during the day.

Patty Jackson: The 4-1-1
Each week Patty Jackson gives us the latest celebrity news and entertainment gossip in The 4-1-1 every Thursday on WDAS
Read more