Evelyn Braxton: "I'm tired of [Tamar] being abused and misused."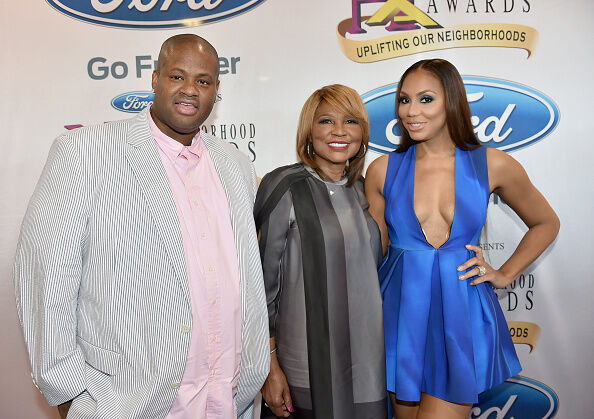 Tamar Braxton's mom Evelyn speaks out on the abusive marriage her daughter had with Vincent Herbert. In an exclusive interview with theGrio, Evelyn saids Tamar endured years and years of emotional and physical abuse from Vince. She also confirms the alleged hotel incident where Tamar and Vince got into a physical altercation. The couple had previously dismissed the incident all together, saying it never happened.
Via theGrio:
Evelyn explains, "It was definitely a volatile relationship...This has been going on for years."
"Everybody saw Vince as a knight and shining armor, [but] behind closed doors that's a horse of another color...I'm tired of [Tamar] being abused and misused."
"They've been trying to hide it for years. And I have the audacity to tell the truth," she says.
"We spoke up about it on the 'Braxton Family Values' but they would not show it. They would show all the other girls and their husbands, but when it came to Vince, they took it out of the show," she reveals.
When asked if she ever addressed Herbert over his alleged abuse, Evelyn Braxton, who temporarily lived in the couple's Los Angeles home, says his response was always that Tamar's "mouth" was to blame. "It's always 'it's Tamar's mouth'…it's always someone else. That does not give you the right to abuse her. Everybody has a mouth. Everyone should have the right to say what they want. Are you trying to beat [her] into submissiveness? No one has the right," she says. Last year, a 911 call placed from a Ritz-Carlton hotel in Atlanta claimed that Vince and Tamar had been involved in a domestic dispute. Vince reportedly bit Tamar's hand and caused the singer to bleed. No police report was ever filed.
Ms. Braxton confirms with theGrio that the reports of the hotel altercation were indeed true. She also revealed that Tamar's older sisters tried to intervene in the marriage to no avail. "Her sisters have been trying to fight Vince for a long time but it was always denied," she says.
Ms. Braxton says she is choosing to speak out now not only because she wants her daughter to be safe, but also wants to put an end to domestic violence at large. "I think too many women are abused, and it's high time that we stand up and stop this madness," she says. "Do you know how many women are killed each year? I just don't want Tamar to be a part of that.
"If anything happens to Tamar, that's Logan's (Tamar and Vince's son) loss. That's my loss. That's her family's loss. I don't want that kind of pain," she adds. "Enough is enough. I don't care how much they smile. I don't care how much they pretend."

Patty Jackson: Patty TV
Listen to Patty Jackson every weekday from 10am-3pm and Sundays 8am-12n
Read more