La La Says She's 'Figuring Out' Carmelo Marriage Amidst PDA-Heavy Sighting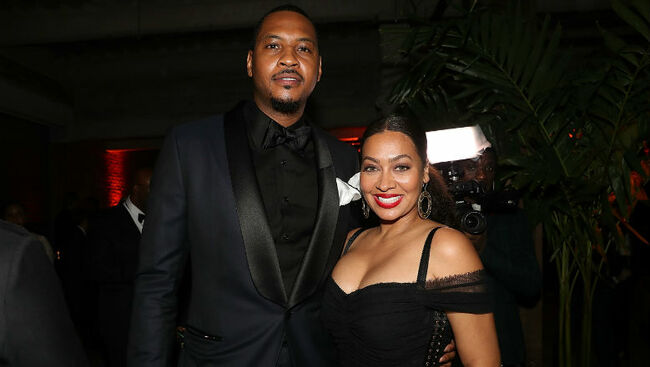 La La and Carmelo Anthony are trying to work out their differences since separating in April 2017, as per the former's recent interview with PEOPLE.
At the launch of grooming line Lumiere de Vie Hommes aboard superyacht Utopia IV in New York City on Saturday (October 13), the TV personality said that they're treading through those waters. "We're good. I mean, we've been together for a really long time so we're figuring out how to make it work for what is best for [our 11-year-old son] Kiyan and what is best for us," she explained. "We're having fun! I have my husband here, my friends here, it's a really exciting time."
La La's words proved true when the star was spotted on Carmelo's lap as the two made out to Beyoncé's hit, "Love On Top," during the event. Later on, they were seen mingling with the likes of Jamie Foxx, Jonathan Cheban and Adrienne Bailon.
The pair separated after nearly seven years of marriage last spring. They wed in 2010 — almost six years after they got engaged on Christmas Day 2004. Still, neither of the stars have even filed divorce papers. Stay tuned to see what happens to these two!